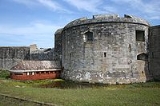 Hurst Castle
Hurst Castle
on the south coast of England is one of Henry VIII's
Device Forts
Device Forts
The Device Forts, also known as Henrician Castles, are a series of artillery fortifications built to defend the southern coast of England by Henry VIII. After his divorce of Catherine of Aragon England was left politically isolated, and the peace of Nice between France and Spain in 1538 aroused...
, built at the end of a long shingle barrier beach at the west end of the
Solent
Solent
The Solent is a strait separating the Isle of Wight from the mainland of England.The Solent is a major shipping route for passengers, freight and military vessels. It is an important recreational area for water sports, particularly yachting, hosting the Cowes Week sailing event annually...
to guard the approaches to
Southampton
Southampton
Southampton is the largest city in the county of Hampshire on the south coast of England, and is situated south-west of London and north-west of Portsmouth. Southampton is a major port and the closest city to the New Forest...
. Hurst Castle was sited at the narrow entrance to the Solent where the ebb and flow of the tides creates strong currents, putting would-be invaders at its mercy. Also known as a Henrician Castle, Hurst was built as part of Henry's chain of coastal defences to protect England during the turbulent times of his reign.
Charles I
Charles I of England
Charles I was King of England, King of Scotland, and King of Ireland from 27 March 1625 until his execution in 1649. Charles engaged in a struggle for power with the Parliament of England, attempting to obtain royal revenue whilst Parliament sought to curb his Royal prerogative which Charles...
was imprisoned here in 1648 before being taken to London to his trial and execution.
Hurst Castle is a fort consisting of a circular stone tower strengthened by semicircular bastions of later dates.