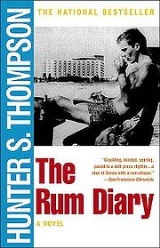 Hunter S. Thompson
Hunter Stockton Thompson
(July 18, 1937 – February 20, 2005) was an American journalist and author who wrote
The Rum Diary
The Rum Diary (novel)
-External links:* Totally Gonzo – The Hunter S. Thompson and Gonzo Journalism Community* at the Internet Movie Database*...
(1998, written in the early 1960s),
Fear and Loathing in Las Vegas
(1971) and
Fear and Loathing on the Campaign Trail '72
Fear and Loathing on the Campaign Trail '72
Fear and Loathing: On the Campaign Trail '72 is a collection of articles covering the 1972 presidential campaign written by the gonzo journalist Hunter S Thompson and illustrated by Ralph Steadman...
(1973).
He is credited as the creator of
Gonzo journalism
Gonzo journalism
Gonzo journalism is a style of journalism that is written without claims of objectivity, often including the reporter as part of the story via a first-person narrative. The word "gonzo" is believed to be first used in 1970 to describe an article by Hunter S. Thompson, who later popularized the style...
, a style of
reporting
Journalism
Journalism is the practice of investigation and reporting of events, issues and trends to a broad audience in a timely fashion. Though there are many variations of journalism, the ideal is to inform the intended audience. Along with covering organizations and institutions such as government and...
where reporters involve themselves in the action to such a degree that they become central figures of their stories.
When the going gets weird, the weird turn pro.

"Fear and Loathing at the Super Bowl" (Rolling Stone 155, February 28, 1974); republished in Gonzo Papers, Vol. 1: The Great Shark Hunt: Strange Tales from a Strange Time (1979), p 49
I feel the same way about disco as I do about herpes.

Speech given to the University of Colorado Student Union (1977-11-01)