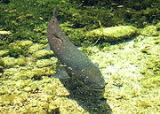 Huchen
The
huchen
or
Danube salmon
(
Hucho hucho
) is a
species
Species
In biology, a species is one of the basic units of biological classification and a taxonomic rank. A species is often defined as a group of organisms capable of interbreeding and producing fertile offspring. While in many cases this definition is adequate, more precise or differing measures are...
of
freshwater
Freshwater
Fresh water is naturally occurring water on the Earth's surface in ice sheets, ice caps, glaciers, bogs, ponds, lakes, rivers and streams, and underground as groundwater in aquifers and underground streams. Fresh water is generally characterized by having low concentrations of dissolved salts and...
fish
Fish
Fish are a paraphyletic group of organisms that consist of all gill-bearing aquatic vertebrate animals that lack limbs with digits. Included in this definition are the living hagfish, lampreys, and cartilaginous and bony fish, as well as various extinct related groups...
in the
salmon
Salmon
Salmon is the common name for several species of fish in the family Salmonidae. Several other fish in the same family are called trout; the difference is often said to be that salmon migrate and trout are resident, but this distinction does not strictly hold true...
family
Family (biology)
In biological classification, family is* a taxonomic rank. Other well-known ranks are life, domain, kingdom, phylum, class, order, genus, and species, with family fitting between order and genus. As for the other well-known ranks, there is the option of an immediately lower rank, indicated by the...
(family
Salmonidae
Salmonidae
Salmonidae is a family of ray-finned fish, the only living family currently placed in the order Salmoniformes. It includes salmon, trout, chars, freshwater whitefishes and graylings...
) of
order
Order (biology)
In scientific classification used in biology, the order is# a taxonomic rank used in the classification of organisms. Other well-known ranks are life, domain, kingdom, phylum, class, family, genus, and species, with order fitting in between class and family...
Salmoniformes. It is the
type species
Type species
In biological nomenclature, a type species is both a concept and a practical system which is used in the classification and nomenclature of animals and plants. The value of a "type species" lies in the fact that it makes clear what is meant by a particular genus name. A type species is the species...
of its
genus
Genus
In biology, a genus is a low-level taxonomic rank used in the biological classification of living and fossil organisms, which is an example of definition by genus and differentia...
. Native to the
Palearctic
Palearctic
The Palearctic or Palaearctic is one of the eight ecozones dividing the Earth's surface.Physically, the Palearctic is the largest ecozone...
ecozone
Ecozone
An ecozone is the broadest biogeographic division of the Earth's land surface, based on distributional patterns of terrestrial organisms.Ecozones delineate large areas of the Earth's surface within which organisms have been evolving in relative isolation over long periods of time, separated from...
, the huchen occurred originally in the
Danube
Danube
The Danube is a river in the Central Europe and the Europe's second longest river after the Volga. It is classified as an international waterway....
basin in
Europe
Europe
Europe is, by convention, one of the world's seven continents. Comprising the westernmost peninsula of Eurasia, Europe is generally 'divided' from Asia to its east by the watershed divides of the Ural and Caucasus Mountains, the Ural River, the Caspian and Black Seas, and the waterways connecting...
but has been introduced elsewhere on the continent and also in
Morocco
Morocco
Morocco , officially the Kingdom of Morocco , is a country located in North Africa. It has a population of more than 32 million and an area of 710,850 km², and also primarily administers the disputed region of the Western Sahara...
where huchen doesn't reproduce because of high water temperature. In historic times it occurred also in the Dniestr basin. Sometimes it lives in big dam reservoirs like on big mountain rivers like
Czorsztyn
Czorsztyn
Czorsztyn is a village in Poland, in Lesser Poland Voivodeship, Nowy Targ County. The village lies in Pieniny, is located in the mountain range on the current Polish-Slovakian border...
Lake in Poland. This food fish is threatened with extinction. Some authors consider the
taimen
Hucho taimen
The taimen , also known as Siberian taimen and Siberian salmon, is a species of fish in the salmon family of order Salmoniformes.-Habits and range:...
to be a subspecies of the huchen.
Appearance
The huchen has a slender body that is nearly round in cross-section. On the reddish brown back are several dark patches in an X or crescent shape. Smaller fish feed on the larvae of water insects or on insects dropped into the water; the larger individuals are predators of other species of fish and other small vertebrates such as mice crossing rivers.
Reproduction
This largest permanent fresh water salmonid spawns in April, once water reaches a temperature of 6 to 9 °C (42.8 to 48.2 F). For spawning, the huchen migrates up the river, where females excavate depressions in the gravel in which to deposit the eggs. Larvae hatch 30 to 35 days after fertilisation.
Commercial breeding
There is now a considerable commercial effort to produce huchen fry to re-introduce the species into the wild. This requires the adults being caught just before spawning and kept in special tanks. Fry are released in appropriate places once they have reached 4 to 10 cm (1.6 to 3.9 in).
Record catch
The world record huchen was 58 kilograms (127.9 lb), caught by Bosnian angler Halil Sofradžija at Dragojevića Rapids on the Drina river, near the town of
Ustikolina
Foca-Ustikolina
The municipality of Foča-Ustikolina is one of three municipalities forming the Bosnian Podrinje Canton in Bosnia and Herzegovina.-History:Foča-Ustikolina used to be part of the original Foča municipality, but split itself 1995 and became part of the Federation of Bosnia and Herzegovina.-Geography...
in
Bosnia and Herzegovina
Bosnia and Herzegovina
Bosnia and Herzegovina , sometimes called Bosnia-Herzegovina or simply Bosnia, is a country in Southern Europe, on the Balkan Peninsula. Bordered by Croatia to the north, west and south, Serbia to the east, and Montenegro to the southeast, Bosnia and Herzegovina is almost landlocked, except for the...
in January 1938. He used rod and reel.