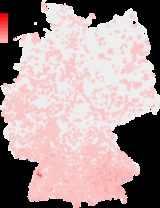 Huber
Huber
is a surname of
German
German language
German is a West Germanic language, related to and classified alongside English and Dutch. With an estimated 90 – 98 million native speakers, German is one of the world's major languages and is the most widely-spoken first language in the European Union....
origin. It derives from the German word
Hube
meaning
hide
Hide (unit)
The hide was originally an amount of land sufficient to support a household, but later in Anglo-Saxon England became a unit used in assessing land for liability to "geld", or land tax. The geld would be collected at a stated rate per hide...
, a unit of land a farmer might possess. It is in the top ten most common surnames in the
German-speaking world
German-speaking Europe
The German language is spoken in a number of countries and territories in West, Central and Eastern Europe...
, especially in
Austria
Austria
Austria , officially the Republic of Austria , is a landlocked country of roughly 8.4 million people in Central Europe. It is bordered by the Czech Republic and Germany to the north, Slovakia and Hungary to the east, Slovenia and Italy to the south, and Switzerland and Liechtenstein to the...
and
Switzerland
Switzerland
Switzerland name of one of the Swiss cantons. ; ; ; or ), in its full name the Swiss Confederation , is a federal republic consisting of 26 cantons, with Bern as the seat of the federal authorities. The country is situated in Western Europe,Or Central Europe depending on the definition....
where it is the surname of approximately 0.3% of the population.
Variants arising from varying dialectal pronunciation of the surname include Hueber, Huemer, Humer, Haumer and Huebmer and Hoover.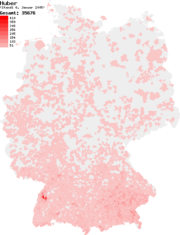 People with the surname Huber:
Alexander Huber

Alexander Huber

Alexander Huber , is a German physicist, climber and mountaineer. He lives in Traunstein.When they were still young Alexander Huber and his brother Thomas Huber were taken into the mountains by their father, Thomas Huber, himself a noted climber known for early fast ascents of now classic climbs...


(born 1968), German climber and mountaineer
Alexander Huber (football)

Alexander Huber (football)

Alexander Huber is a German football player who currently plays for FSV Frankfurt. He plays as right defender or in the midfield.- Career :...


(born 1985), a football player
Alyson Huber

Alyson Huber

Alyson Huber is a representative in the California State Legislature from the 10th Assembly District in Northern California. Assemblywoman Huber has served since 2008...


(born 1972), a California legislator elected to the State Assembly in 2008
Anke Huber

Anke Huber

Anke Huber is a German retired professional tennis player. She was the runner-up in women's singles at the 1996 Australian Open. Her career-high singles ranking was fourth, also in 1996.-Early life:...


(born 1974), German former tennis player and she was good at single
Bruno Huber

Bruno Huber

Bruno Huber was a Swiss astrologer who, with his wife, Louise Huber, founded the Huber School of Astrology in 1962. A later branch of the school opened in the UK in 1983...


(1930-1999), Swiss astrologer, husband of Louise Huber
Cheri Huber

Cheri Huber

Cheri Huber is an independent Soto Zen teacher with more than thirty years of experience. She is the founder and guiding teacher of Zen Monastery Peace Center located in Murphys, California, which was constructed in 1993. The plot of land was purchased in 1987, with . She was raised in the San...


(born c. 1944), independent Soto Zen teacher
Chuck Huber

Chuck Huber

Chuck Huber is an American voice actor, ADR Director and Script writer who work for anime series at Funimation Entertainment and OkraTron 5000...


(born 1971), American voice actor
Don Huber

Don Huber

Don Huber is a retired American soccer forward who played professionally in the North American Soccer League and Major Indoor Soccer League. He also played for St. Louis Kutis S.C. when it won the 1986 U.S. Open Cup....


(born 1957), retired American Soccer (Football) forward
Erwin Huber

Erwin Huber

Erwin Huber is a German conservative politician. He was leader of the Christian Social Union of Bavaria from 2007 to 2009.-Early life:...


(born 1946), German conservative politician
François Huber

François Huber

François Huber was a Swiss naturalist.He was born at Geneva, of a family which had already made its mark in the literary and scientific world: his great-aunt, Marie Huber, was known as a voluminous writer on religious and theological subjects, and as the translator and epitomizer of The Spectator...


(1750-1831), Swiss naturalist
Gerold Huber

Gerold Huber

Gerold Huber is a German pianist, best known as duo partner of baritone Christian Gerhaher.- Biography :Gerold Huber studied on a scholarship at the Hochschule für Musik und Theater München piano with Friedemann Berger and Lied accompaniment with Helmut Deutsch...


(born 1969), German pianist
Gregory Huber

Gregory Huber

Gregory B. Huber is an American Democratic legislator and jurist.Born in Wausau, Wisconsin, Huber graduated from Watertown High School. He received his bachelors and law degrees from University of Wisconsin–Madison in 1978 and 1981...


(born 1971), American legislator and jurist
Harold Huber

Harold Huber

Harold Huber was an American actor who appeared on film, radio and television.-Early life:Huber was born Harold Joseph Huberman in the Bronx to Joseph Huberman and "Mammie" Glassberg, Jewish immigrants from Imperial Russia, who had arrived in the United States as infants. His father was the...


(1909-1959), American character actor of the 1930s/1940s
Hermann J. Huber

Hermann J. Huber

Hermann J. Huber was a German journalist and writer. He was born in Moosbach.- Life :After school in Weiden in der Oberpfalz, Bavaria, at Augustinus-Gymnasium Weiden Huber studied Roman Catholic theology and history in Munich at Ludwig Maximilian University of Munich. After university studies...


(1954–2009), German writer and journalist
Herta Huber

Herta Huber

Herta Huber is a German writer and poet. She is well known for writing in the Egerland dialect, originating from what is now part of Bohemia in the Czech Republic...


(born 1926), German writer and poet
JoKarl Huber

JoKarl Huber

Joseph Karl Huber, stagename JoKarl Huber was a German artist.Born in 1902 in the Wuerttembergian village of Laudenbach Joseph Karl Huber, stagename JoKarl Huber (* 13 February 1902, † 1996) was a German artist.Born in 1902 in the Wuerttembergian village of Laudenbach Joseph Karl Huber, stagename...


(1902-1996), German artist
Justin Huber

Justin Huber

- New York Mets :He was originally drafted as a catcher by the New York Mets in .- Kansas City Royals :Huber was one of the top prospects within the Mets organization when he was traded to the Kansas City Royals before the trade deadline for José Bautista...


(born 1982), Australian baseball player
Klaus Huber

Klaus Huber

Klaus Huber is a Swiss composer.Huber was born in Bern, Switzerland. One of the leading figures of his generation in Europe, he has written extensively for chamber ensembles, choirs, soloists and the orchestra as well as the theater...


(born 1924), Swiss composer
Kurt Huber

Kurt Huber

Kurt Huber was a member of the White Rose group, which carried out resistance against Nazi Germany.-Early life:...


(1893-1943) , a German professor, executed by the Nazis in 1943
Kurt Huber (tenor)

Kurt Huber (tenor)

Kurt Huber is a Swiss tenor for concert and Lieder.- Biography :Kurt Huber studied voice in Vienna with Anton Dermota....


(born 1937), Swiss tenor
Liezel Huber

Liezel Huber

Liezel Huber is a professional tennis player who competes for, resides in, and is a naturalized citizen of the United States. Huber has won four Grand Slam titles in women's doubles with partner Cara Black, one with Lisa Raymond, and two mixed doubles titles with Bob Bryan.  On November 12, 2007,...


(born 1976), South African tennis player and she is good at doubles
Louise Huber (1930-1999), Swiss astrologer, wife of Bruno Huber

Bruno Huber

Bruno Huber was a Swiss astrologer who, with his wife, Louise Huber, founded the Huber School of Astrology in 1962. A later branch of the school opened in the UK in 1983...



Max Huber (disambiguation), multiple people
Nicolaus A. Huber

Nicolaus A. Huber

Nicolaus A. Huber is a German composer.From 1958 to 1962 Huber studied music education at the Hochschule für Musik und Theater München and subsequently composition with Franz Xaver Lehner and Günter Bialas. He pursued his education further with Josef Anton Riedl, Karlheinz Stockhausen and, above...


(born 1939), German composer
Norbert Huber

Norbert Huber

Norbert Huber is an Italian luger who competed from the early 1980s to the late 1990s...


(born 1964), Italian former luger
Peter J. Huber (born 1934), Swiss statistician
Robert Huber

Robert Huber

Robert Huber is a German biochemist and Nobel laureate.He was born 20 February 1937 in Munich where his father, Sebastian, was a bank cashier. He was educated at the Humanistisches Karls-Gymnasium from 1947 to 1956 and then studied chemistry at the Technische Hochschule, receiving his diploma in 1960...


(born 1937), German biochemist
Robert Huber (sport shooter)

Robert Huber (sport shooter)

Robert Waldemar Huber was a Finnish sport shooter who competed in the 1912 Summer Olympics and in the 1924 Summer Olympics.In 1912 he finished fifth with the Finnish team in the team clay pigeons competition...


(1878-1946), Finnish former sport shooter
Robert J. Huber

Robert J. Huber

Robert James "Bob" Huber was a Republican politician and businessman from the U.S. state of Michigan.Huber was born in Detroit, where he completed public school. He attended the University of Detroit from 1935 to 1937 and graduated from Culver Military Academy in Culver, Indiana, in 1939...


(1922–2001), U.S. Representative from Michigan
Rocky Huber (born 1955), American mechanical engineer and creator of the DZynSource Mold Engineering Software
Ronald Huber (born 1954), Chilean architect and naturalist
Rupert Huber

Rupert Huber

Rupert W.M. Huber is an Austrian composer and musician.In 1994, Huber founded Huber Musik to publish his own music, and in same year, founded Tosca with Richard Dorfmeister...


(born 1967), Austrian composer and musician
Sophie Huber

Sophie Huber

Sophie Huber is a female freestyle swimmer from France, who competed for her native country at the 2008 Summer Olympics in Beijing, PR China.- References :*...


, (born 1985) French freestyle swimmer
Therese Huber

Therese Huber

-Life:Therese Huber was born Therese Heyne in Göttingen as daughter of the influential classical philologist Christian Gottlob Heyne. She married traveller and ethnologist Georg Forster in 1785. They lived in Wilno 1785–1787 and in Göttingen and Mainz 1788–1792 and had three children, but an...


(1764-1829), German author
Thomas Huber

Thomas Huber

Thomas Huber , is a German climber and mountaineer. He lives in Berchtesgaden with his family. His brother and climbing partner is the German climber Alexander Huber....


(born 1966), German climber and mountaineer
Tomáš Huber

Tomáš Huber

Tomáš Huber is a Czech professional footballer, Defender, who currently plays for MFK Ružomberok.-External links:*...


, Czech footballer
Tytus Maksymilian Huber

Tytus Maksymilian Huber

Tytus Maksymilian Huber was a world renowned Polish mechanical engineer, educator, and scientist. He was a member of the pre-war Polish scientific foundation, Kasa im...


(1872-1950), Polish mechanical engineer, educator, and scientist
Vernon Huber

Vernon Huber

Vernon Huber was a United States Navy Rear admiral, and the 36th Governor of American Samoa from April 22, 1947 to June 15, 1949. He was born in Philadelphia, Illinois, and was appointed to the United States Naval Academy from that state. He served as the first commanding officer of the USS...


(1899-1967), 36th Governor of American Samoa
Victor Aimé Huber

Victor Aimé Huber

Victor Aimé Huber was a German social reformer, travel writer and a literature historian.Huber's parents were a couple of writers, Ludwig Ferdinand and Therese Huber, née Heyne...


(1800-1869), German social reformer, travel writer and a literature historian
Ulrik Huber (1636–1694), a Dutch jurist
Wilfried Huber

Wilfried Huber

Wilfried Huber is an Italian luger who has competed since 1985. Together with Kurt Brugger, he won the men's doubles event at the 1994 Winter Olympics in Lillehammer....


(born 1970), Italian luger
Wolf Huber

Wolf Huber

Wolf Huber was an Austrian painter, printmaker, and architect, a leading member of the Danube School.-Life:Records show that Huber was born in Feldkirch, Vorarlberg, but that by 1515 he was living in Passau. His relationship with other painters of that name living in Feldkirch is unknown,...


(c. 1485-1553), Austrian painter
Wolfgang Huber

Wolfgang Huber

Wolfgang Huber is a prominent German theologian and ethicist. Huber served as bishop of the Evangelical Church of Berlin-Brandenburg-Silesian Upper Lusatia until November 2009...


(born 1942), German former Bishop