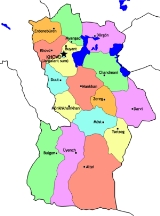 Hovd Province
Khovd
is one of the 21
aimags
Aimags of Mongolia
Mongolia is divided into 21 aimags . Each aimag is subdivided into several sums. The name aimag is derived from the Mongolian and Turkic languages word for "tribe". The modern aimags were established since 1921...
(provinces) of
Mongolia
Mongolia
Mongolia is a landlocked country in East and Central Asia. It is bordered by Russia to the north and China to the south, east and west. Although Mongolia does not share a border with Kazakhstan, its western-most point is only from Kazakhstan's eastern tip. Ulan Bator, the capital and largest...
, located in the west of the country. Its capital is also named Khovd.
Khovd is approximately 1,580 km from Ulan Bator. It is considered remote even for Mongolian standards. Name is given after Khovd River located in this province.
Population
Khovd is distinguished by its multi-cultural population. It is home to more than 17 nationalities and ethnicities. Each of these groups has its own distinct traditional dwelling and settlement pattern, dress and other cultural distinctions, literary, artistic, and musical traditions. There is a rather large minority Kazakh-Mongol population that speaks both
Kazakh
Kazakh language
Kazakh is a Turkic language which belongs to the Kipchak branch of the Turkic languages, closely related to Nogai and Karakalpak....
and
Mongolian
Mongolian language
The Mongolian language is the official language of Mongolia and the best-known member of the Mongolic language family. The number of speakers across all its dialects may be 5.2 million, including the vast majority of the residents of Mongolia and many of the Mongolian residents of the Inner...
.
Ethnic groups of Khovd aimag
national censuses data
Ethnic
group
Mongolian
name
1979
%
1989
%
2000
%
Khalkha

Khalkha

Khalkha is the largest subgroup of Mongol people in Mongolia since 15th century. The Khalkha together with Tsahar, Ordos and Tumed, were directly ruled by the Altan Urag Khans until the 20th century; unlike the Oirat people who were ruled by the Dzungar nobles or the Khorchins who were ruled by...



Халх
17,343
27.72
20,397
26.64
23,832
27.45
Zakhchin

Zakhchin

Zakhchin is a subgroup of the Oirats residing in Khovd Province, Mongolia.Zakhchin means 'Border people'. They are so called because they are originated form the border garrison of Dzungar Empire...



Захчин
14,464
23.12
17,228
22.50
21,645
24.93
Kazakh

Kazakhs

The Kazakhs are a Turkic people of the northern parts of Central Asia ....



Казак
9,425
15.06
12,814
16.74
10,005
11.52
Torguud
Торгууд
5,566
8.90
6,703
8.76
6,995
8.06
Ööld
Өөлд
4,823
7.71
5,622
7.34
6,503
7.49
Uriankhai

Uriankhai

"Uriankhai" , also known as Urianhai or Uryangkhai, is a term applied to several neighboring ethnic groups...



Урианхай
4,587
7.33
5,403
7.06
6,592
7.59
Dörvöd
Дөрвөд
2,856
4.56
3,609
4.71
5,242
6.04
Myangad
Мянгад
2,855
4.56
3,517
4.59
4,287
4.94
Tuvan

Tuvans

Tuvans or Tuvinians are Turkic peoples living in southern Siberia. They are historically known as one of the Uriankhai, from the Mongolian designation...



Тува
239
0.31
724
0.83
Bayad

Bayad

The bayad بياض, Bagrus bajad, is a species of catfish in the family Bagridae.-Distribution:The natural habitat of the bayad are lakes and rivers in Africa. These lakes include Lake Chad, Lake Mobutu, and Lake Turkana. Rivers include the Nile, the Niger, and the Senegal.-Description:The bayad is...



Баяд
129
0.21
227
0.30
377
0.43
Uzbek

Uzbeks

The Uzbeks are a Turkic ethnic group in Central Asia. They comprise the majority population of Uzbekistan, and large populations can also be found in Afghanistan, Tajikstan, Kyrgyzstan, Turkmenistan, Kazakhstan, Russia, Pakistan, Mongolia and the Xinjiang Uyghur Autonomous Region of China...



Чантуу
183
0.29
187
0.24
258
0.30
Khoshuud

Khoshuud

The Khoshut are one of the four major tribes of the Oirat people. Originally, Khoshuuds were one of the Khorchin tribes in southeastern Mongolia, but in mid 15th century they migrated to western Mongolia to become an ally of oirats to counter central Mongolian military power...



Хошууд
149
0.17
Other Mongolian citizens
93
0.15
176
0.23
203
0.23
Foreigners
241
0.39
431
0.56
19
0.02
Total
62,565
100.00
76,553
100.00
86,831
100.00
The Khovd aimag population growth stopped in 1991, then migration out of the aimag (approx. 20,000 in 1992-2004) compensated the natural increase and confined aimag's population within 87,000 – 92,000 limits.
Khovd aimag population Statoids (Gwillim Law) web pagehttp://www.statoids.com/umn.html
1956
census
1960
est.
1963
census
1969
census
1975
est.
1979
census
1981
est.
1989
census
1991
est.
1993
est.
1995
est.
1997
est.
1999
est.
2000
census
2002
est.
2004
est.
2006
est.
2007
est.
42,300
48,000
47,300
54,000
59,200
62,600
64,500
86,831
89,365
87,171
88,494
91,339
91.490
89,326
89,664
91,770
92,395
89,040
Climate
Khovd is notorious for its harsh weather cycles, as temperatures regularly reach as high as 40 degrees Celsius (104 degrees Fahrenheit) and as low as −30 degrees Celsius (−22 degrees Fahrenheit). The climate is dry, as it receives the same average rainfall of Phoenix, Arizona each year.
Transportation
The
Khovd Airport
Khovd Airport
Khovd Airport is a public airport located in Khovd city, Mongolia.- Airlines :- External links :* Khovd* Khovd...
(HVD/ZMKD) has two runways, one of which is paved, and gets served by regular flights from and to Ulan Bator, Mörön, and
Bulgan
Bulgan (city)
Bulgan is a town, administrative centre of Bulgan province of Mongolia. Bulgan sum has a population of 11,984 , 12,323, town proper has a population of 11,198...
Economy
The region around the city is famous in Mongolia for its watermelon crop.
There is a sizable hydroelectric dambuilding project underway that will theoretically generate enough electricity to power the three most western aimags (
Uvs
Uvs Province
Uvs is one of the 21 aimags of Mongolia. It is located in the west of the country, 1336 km away from the national capital Ulaanbaatar.Its capital is Ulaangom which lies 936m above the Sea level....
, Bayan-Ölgii, and Khovd). Currently, the city of Khovd is connected to the Russian power grid and subject to blackouts if it falls behind in its payments.
Administrative Subdivision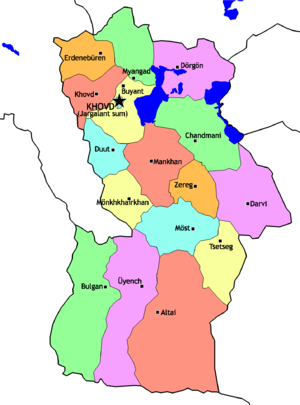 The Aimag capital Khovd is geographically located in the
Buyant
Buyant, Khovd
Buyant is a sum of Khovd Province in western Mongolia....
sum, but is administered as independent
Jargalant
Jargalant, Khovd
Jargalant is a sum of Khovd Province in western Mongolia. Jargalant sum exists since 1992, includes Khovd aimag capital Khovd city. Jargalant sum is droplet in the Buyant sum....
sum. The administrative center of the Khovd Sum is also called Khovd, which is a common source of confusion. The other administrative centers carry the name of the respective Sum as well.
The sums

Sum (subnational entity)

Sum, sumu, sumon, and somon are a type of administrative district used in China, Mongolia, and Russia.-China:...


of Khovd Aimag
Sum
Mongolian

Mongolian language

The Mongolian language is the official language of Mongolia and the best-known member of the Mongolic language family. The number of speakers across all its dialects may be 5.2 million, including the vast majority of the residents of Mongolia and many of the Mongolian residents of the Inner...



Population
1979 census
Population
1991 est.
Population
2007 est.
Sum Centre
Population
Area
(km²)
Density
(/km²)
Distance
from Khovd
city(km)
Altai

Altai, Khovd

Altai is a sum of Khovd Province in western of Mongolia....



2,141
2,712
3,234
767
13,144
0.25
310
Bulgan

Bulgan, Khovd

Bulgan is a sum of Khovd Province in western Mongolia....



7,052
9,169
9,634
3,171
8,104
1.19
335
Buyant

Buyant, Khovd

Buyant is a sum of Khovd Province in western Mongolia....



3,361
4,386
3,533
1,568
3,759
0.96
19
Chandmani

Chandmani, Khovd

Chandmani is a sum of Khovd Province in western Mongolia....



2,311
2,963
3,155
689
6,016
0.52
160
Darvi

Darvi, Khovd

Darvi is a sum of Khovd Province in western Mongolia....



2,402
2,775
2,596
579
5,604
0.47
204
Dörgön

Dörgön, Khovd

Dörgön is a sum of Khovd Province in western Mongolia....



1,715
2,555
3,015
659
4,128
0.73
106
Duut

Duut, Khovd

Duut is a sum of Khovd Province in western Mongolia....



1,675
2,189
2,094
502
2,146
0.98
76
Erdenebüren

Erdenebüren, Khovd

Erdenebüren is a sum of Khovd Province in western Mongolia....



2,258
3,210
3,372
696
2,772
1.22
60
Jargalant

Jargalant, Khovd

Jargalant is a sum of Khovd Province in western Mongolia. Jargalant sum exists since 1992, includes Khovd aimag capital Khovd city. Jargalant sum is droplet in the Buyant sum....


*
17,620
26,877
29,207
28,601*
70
417.24
0
Khovd

Khovd, Khovd

Hovd is a sum of Khovd Province in western Mongolia.- Population :In 2005, 4,644 inhabitants and 866 households lived in Khovd sum. It is the only sum in the Hovd aimag with a majority of Kazakh. 96% of the population belongs to Kazakh nationality and the remaining belong to other ethnic and...



3,927
4,850
4,589
719
2,830
1.63
27
Mankhan

Mankhan, Khovd

Mankhan is a sum of Khovd Province in western Mongolia.-Notable people:* Damdiny Demberel, long standing member and since 2008 speaker of the State Great Khural, was born in Mankhan....



3,273
4,352
4,526
1,258
4,330
1.05
80
Mönkhkhairkhan

Mönkhkhairkhan, Khovd

Mönkhkhairkhan is a sum of Khovd Province in western Mongolia. It is named after Mount Mönkhkhairkhan....



1,811
2,337
2,554
744
2,554
1.06
155
Möst

Möst, Khovd

Möst is a sum of Khovd Province in western Mongolia....



3,239
4,092
3,577
809
3,927
0.91
180
Myangad

Myangad, Khovd

Myangad is a sum of Khovd Province in western Mongolia....



2,940
4,552
3,662
713
3,258
1.12
35
Tsetseg

Tsetseg, Khovd

Tsetseg is a sum of Khovd Province in western Mongolia....



2,189
2,645
2,531
570
3,491
0.72
216
Üyench

Üyench, Khovd

Üyench is a sum of Khovd Province in western Mongolia....



2,575
3,913
4,760
1,452
7,476
0.64
305
Zereg

Zereg, Khovd

Zereg is a sum of Khovd Province in western Mongolia. It is the birthplace of Mongolia's president, Tsakhiagiin Elbegdorj....



2,388
3,092
3,078
796
2,524
1.23
130
*
- The aimag capital Khovd