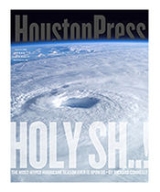 Houston Press
The
Houston Press
is an
alternative weekly
Alternative weekly
An alternative newspaper is a type of newspaper, that eschews comprehensive coverage of general news in favor of stylized reporting, opinionated reviews and columns, investigations into edgy topics and magazine-style feature stories highlighting local people and culture. Their news coverage is more...
newspaper
Newspaper
A newspaper is a scheduled publication containing news of current events, informative articles, diverse features and advertising. It usually is printed on relatively inexpensive, low-grade paper such as newsprint. By 2007, there were 6580 daily newspapers in the world selling 395 million copies a...
published in Houston,
Texas
Texas
Texas is the second largest U.S. state by both area and population, and the largest state by area in the contiguous United States.The name, based on the Caddo word "Tejas" meaning "friends" or "allies", was applied by the Spanish to the Caddo themselves and to the region of their settlement in...
,
United States
United States
The United States of America is a federal constitutional republic comprising fifty states and a federal district...
. It is headquartered in
Downtown Houston
Downtown Houston
Downtown Houston is the largest business district of Houston, Texas, United States. Downtown Houston, the city's central business district, contains the headquarters of many prominent companies. There is an extensive network of pedestrian tunnels and skywalks connecting the buildings of the district...
.
The paper, a part of the Village Voice Media group, is supported entirely by
advertising
Advertising
Advertising is a form of communication used to persuade an audience to take some action with respect to products, ideas, or services. Most commonly, the desired result is to drive consumer behavior with respect to a commercial offering, although political and ideological advertising is also common...
revenue and is free to readers. The newspaper draws a weekly readership of more than 300,000, verified by an independent media audit and referenced on its website. The
Press
can be found in restaurants, coffee houses, and local retail stores. New weekly editions are distributed on Thursdays.
The
Houston Press
is one of the few alternatives to the mainstream
Houston Chronicle
Houston Chronicle
The Houston Chronicle is the largest daily newspaper in Texas, USA, headquartered in the Houston Chronicle Building in Downtown Houston. , it is the ninth-largest newspaper by circulation in the United States...
.
The
Houston Press
is not to be confused with the
newspaper of the same name
Houston Press (Scripps Howard)
The Houston Press was a Scripps Howard afternoon newspaper, founded in 1911, in Houston, Texas. Under the leadership of founding editor Paul C. Edwards , Marcellus E. Foster, known as "Mefo" , and George Carmack , the newspaper developed a reputation for flashy stories about violence and sex and...
that closed in 1964. The weekly Houston Press was founded locally in 1989 and bought out by New Times Media in 1996.
Editor Margaret Downing
Associate Editor Cathy Matusow
Music Editor Chris Gray
Web Editor Brittanie Shey
The paper includes sections devoted to
News: Includes local, regional and sometimes statewide short and long news stories
Arts and Entertainment: Includes a weekly calendar, city events listings, a music section with a weekly music column, several music features, show previews, and CD reviews. Also includes a food column, DVD reviews, theater reviews, and the nightlife column Nightfly.
Online Offerings: The Press launched four blogs from 2006 to 2008: the news blog Hair Balls, the music blog Rocks Off, the food/dining blog Eating Our Words and the sports blog Ballz, which folded in 2009; all sports-related blog items now appear in Hair Balls. In July 2010, the website launched a new fourth blog called Art Attack, which concentrates on the local theater, symphony, museum, and art gallery scenes and events in the greater Houston area as well as offering blog items on more national fare, such as film and television.
Awards from the Association of Alternative Newsweeklies
2007
First Place, Feature Story; Third Place, Investigative Reporting Todd Spivak
First Place, Music Criticism; Second Place, Arts Feature John Nova Lomax
Second Place, News Story/Long Form, Craig Malisow
2005
Honorable Mention, Column above 50,000: "Downing" by Margaret Downing
3rd Place, Education: Above 50,000: "HCCS's Gift Basket Bonanza" by Josh Harkinson
2nd Place, Food Writing: Above 50,000: "The Cow Says Oink" by Robb Walsh
3rd Place, News Story (1500 words or less): "Firing Line" by Josh Harkinson
2004
2nd Place, Column-Political: Above 50,000: Tim Fleck
1st Place, Food Writing: Above 50,000: Robb Walsh
3rd Place, Religion Reporting: Above 50,000: "Doing Time" by Scott Nowell
2003
1st Place, Media Reporting: Above 50,000: "Reality TV Bites" by Jennifer Mathieu
2001
2nd Place, Investigative Reporting: Above 54,000: "Paying the Price" by Bob Burtman
2000
1st Place, Column: Above 54,000: Margaret Downing
1st Place, Corrections Reporting: Above 54,000: "Trouble in Mind" by Steve McVicker
1999
1998
1st Place, Investigative Reporting: Above 54,000: "Easy Street" by Bob Burtman
1st Place, Web Site: "Webb Page Confidential"
Other
recent awards of note
include Todd Spivak's 2006 first place win in the Investigative Reporters and Editors Association under 100,000 circulation weekly category, and Rich Connelly's first place in the humor category of the under 100,000 circulation bracket of the National Society of Newspaper Columnists.
External links