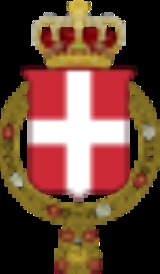 House of Savoy
The
House of Savoy
was formed in the early 11th century in the historical
Savoy
Savoy
Savoy is a region of France. It comprises roughly the territory of the Western Alps situated between Lake Geneva in the north and Monaco and the Mediterranean coast in the south....
region. Through gradual expansion, it grew from ruling a small
county
County
A county is a jurisdiction of local government in certain modern nations. Historically in mainland Europe, the original French term, comté, and its equivalents in other languages denoted a jurisdiction under the sovereignty of a count A county is a jurisdiction of local government in certain...
in that region to eventually rule the
Kingdom of Italy
Kingdom of Italy (1861–1946)
The Kingdom of Italy was a state forged in 1861 by the unification of Italy under the influence of the Kingdom of Sardinia, which was its legal predecessor state...
from 1861 until the end of
World War II
World War II
World War II, or the Second World War , was a global conflict lasting from 1939 to 1945, involving most of the world's nations—including all of the great powers—eventually forming two opposing military alliances: the Allies and the Axis...
, king of Croatia and King of Armenia. The House of Savoy ruled unified Italy for 85 years with Victor Emmanuel II,
Umberto I
Umberto I of Italy
Umberto I or Humbert I , nicknamed the Good , was the King of Italy from 9 January 1878 until his death. He was deeply loathed in far-left circles, especially among anarchists, because of his conservatism and support of the Bava-Beccaris massacre in Milan...
,
Victor Emmanuel III
Victor Emmanuel III of Italy
Victor Emmanuel III was a member of the House of Savoy and King of Italy . In addition, he claimed the crowns of Ethiopia and Albania and claimed the titles Emperor of Ethiopia and King of Albania , which were unrecognised by the Great Powers...
, and
Umberto II
Umberto II of Italy
Umberto II, occasionally anglicized as Humbert II was the last King of Italy for slightly over a month, from 9 May 1946 to 12 June 1946. He was nicknamed the King of May -Biography:...
as monarchs. The last monarch ruled for a few weeks before being overthrown by a
popular referendum
Birth of the Italian Republic
The Italian constitutional referendum which officially took place on 2 June 1946, is a key event of Italian contemporary history. Until 1946, Italy was a kingdom ruled by the House of Savoy, kings of Italy since the Risorgimento and previously rulers of Savoy...
and a new republican government.
The House of Savoy emerged, along with the free communes of Switzerland, in what is now called
Switzerland
Switzerland
Switzerland name of one of the Swiss cantons. ; ; ; or ), in its full name the Swiss Confederation , is a federal republic consisting of 26 cantons, with Bern as the seat of the federal authorities. The country is situated in Western Europe,Or Central Europe depending on the definition....
.