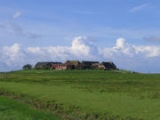 Hooge, Germany
Hooge
is a small island off the coast of
Germany
Germany
Germany , officially the Federal Republic of Germany , is a federal parliamentary republic in Europe. The country consists of 16 states while the capital and largest city is Berlin. Germany covers an area of 357,021 km2 and has a largely temperate seasonal climate...
. It is the second largest of the ten halligen in the
Wadden Sea
Wadden Sea
The Wadden Sea is an intertidal zone in the southeastern part of the North Sea. It lies between the coast of northwestern continental Europe and the range of Frisian Islands, forming a shallow body of water with tidal flats and wetlands. It is rich in biological diversity...
, after
Langeneß
Langeneß
Langeneß is a municipality in the district of Nordfriesland, in Schleswig-Holstein, Germany. It consists of the halligen Langeneß and Oland. Before the flood of 1634 the two islands were directly attached....
. It is frequently called the Queen of the Halligen. The houses on the island are built on ten
terpen
Artificial dwelling hill
An artificial dwelling hill is a mound, created to provide safe ground during high tide and river floods....
, in german so called Warften.
The
municipality
Municipality
A municipality is essentially an urban administrative division having corporate status and usually powers of self-government. It can also be used to mean the governing body of a municipality. A municipality is a general-purpose administrative subdivision, as opposed to a special-purpose district...
(
Gemeinde
) Hooge also includes the uninhabited hallig
Norderoog
Norderoog
Norderoog is one of the ten German halligen islands of the North Frisian Islands in the Wadden Sea, which is part of the North Sea off the coast of Germany. It is only temporalily inhabited by a bird warden from March to October. The refuge hut at the northeastern end is called Jens Wand Hütte,...
.
Terpen (Warften, Warfen, Wurten) on Hallig Hooge
Hooge has 9 populated terpen:
Backenswarft
Kirchwarft
Ockelützwarft
Hanswarft
Ockenswarft
Lorenzwarft/Mitteltritt (double-terpen)
Volkertswarft
Ipkenswarft
Westerwarft
Furthermore, the Pohnswarft still can be found close to the border of Hooge. The Pohnswarft is an unpopulated terp which has been given up due to its unfavorable location. There is only a water gauge on it.