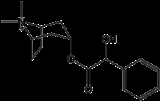 Homatropine
Homatropine
is an
anticholinergic
Anticholinergic
An anticholinergic agent is a substance that blocks the neurotransmitter acetylcholine in the central and the peripheral nervous system. An example of an anticholinergic is dicycloverine, and the classic example is atropine....
medication
Medication
A pharmaceutical drug, also referred to as medicine, medication or medicament, can be loosely defined as any chemical substance intended for use in the medical diagnosis, cure, treatment, or prevention of disease.- Classification :...
that inhibits
muscarinic acetylcholine receptor
Muscarinic acetylcholine receptor
Muscarinic receptors, or mAChRs, are acetylcholine receptors that form G protein-coupled in the plasma membranes of certain neurons and other cells...
s and thus the
parasympathetic nervous system
Parasympathetic nervous system
The parasympathetic nervous system is one of the two main divisions of the autonomic nervous system . The ANS is responsible for regulation of internal organs and glands, which occurs unconsciously...
. It is used in
eye drop
Eye drop
Eye drops are saline-containing drops used as a route to administer medication in the eye. Depending on the condition being treated, they may contain steroids, antihistamines, sympathomimetics, beta receptor blockers, parasympathomimetics, parasympatholytics, prostaglandins, non-steroidal...
s as a cycloplegic, to temporarily paralyze
accommodation
Accommodation (eye)
Accommodation is the process by which the vertebrate eye changes optical power to maintain a clear image on an object as its distance changes....
, and as a mydriatic, to dilate the
pupil
Pupil
The pupil is a hole located in the center of the iris of the eye that allows light to enter the retina. It appears black because most of the light entering the pupil is absorbed by the tissues inside the eye. In humans the pupil is round, but other species, such as some cats, have slit pupils. In...
.
For
Homatropine methylbromide
see
Methylhomatropine
Methylhomatropine
Homatropine methylbromide or Methylhomatropine bromide is a quaternary ammonium salt of methylhomatropine. It is a peripherally acting anticholinergic medication that inhibits muscarinic acetylcholine receptors and thus the parasympathetic nervous system...
, this is a different medication.
Homatropine is less
potent
Potency (pharmacology)
In the field of pharmacology, potency is a measure of drug activity expressed in terms of the amount required to produce an effect of given intensity. A highly potent drug evokes a larger response at low concentrations, while a drug of lower potency evokes a small response at low concentrations...
than
atropine
Atropine
Atropine is a naturally occurring tropane alkaloid extracted from deadly nightshade , Jimson weed , mandrake and other plants of the family Solanaceae. It is a secondary metabolite of these plants and serves as a drug with a wide variety of effects...
and has a shorter duration of action. It is available as the hydrobromide
salt
Salt
In chemistry, salts are ionic compounds that result from the neutralization reaction of an acid and a base. They are composed of cations and anions so that the product is electrically neutral...
.
Homatropine is also given as an atropine substitute given to reverse the muscarinic and
CNS
Central nervous system
The central nervous system is the part of the nervous system that integrates the information that it receives from, and coordinates the activity of, all parts of the bodies of bilaterian animals—that is, all multicellular animals except sponges and radially symmetric animals such as jellyfish...
effects associated with indirect cholinomimetic (anti-AChase) administration.
Contraindications
Untreated glaucoma

Glaucoma

Glaucoma is an eye disorder in which the optic nerve suffers damage, permanently damaging vision in the affected eye and progressing to complete blindness if untreated. It is often, but not always, associated with increased pressure of the fluid in the eye...



Myasthenia gravis

Myasthenia gravis

Myasthenia gravis is an autoimmune neuromuscular disease leading to fluctuating muscle weakness and fatiguability...



Severe heart failure
Thyrotoxicosis