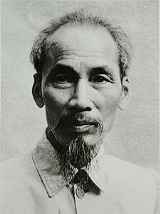 Ho Chi Minh
Hồ Chí Minh
born
Nguyễn Sinh Cung
and also known as
Nguyễn Ái Quốc
, was a
Vietnamese
Vietnamese people
The Vietnamese people are an ethnic group originating from present-day northern Vietnam and southern China. They are the majority ethnic group of Vietnam, comprising 86% of the population as of the 1999 census, and are officially known as Kinh to distinguish them from other ethnic groups in Vietnam...
Marxist-Leninist
Marxism-Leninism
Marxism–Leninism is a communist ideology, officially based upon the theories of Marxism and Vladimir Lenin, that promotes the development and creation of a international communist society through the leadership of a vanguard party over a revolutionary socialist state that represents a dictatorship...
revolutionary
Revolutionary
A revolutionary is a person who either actively participates in, or advocates revolution. Also, when used as an adjective, the term revolutionary refers to something that has a major, sudden impact on society or on some aspect of human endeavor.-Definition:...
leader who was prime minister (1945–1955) and president (1945–1969) of the Democratic Republic of Vietnam (North Vietnam). He was a key figure in the formation of the Democratic Republic of Vietnam in 1945, as well as the People's Army of Vietnam (PAVN) and the Vietcong during the
Vietnam War
Vietnam War
The Vietnam War was a Cold War-era military conflict that occurred in Vietnam, Laos, and Cambodia from 1 November 1955 to the fall of Saigon on 30 April 1975. This war followed the First Indochina War and was fought between North Vietnam, supported by its communist allies, and the government of...
until his death in 1969.
Hồ led the
Việt Minh
Viet Minh
Việt Minh was a national independence coalition formed at Pac Bo on May 19, 1941. The Việt Minh initially formed to seek independence for Vietnam from the French Empire. When the Japanese occupation began, the Việt Minh opposed Japan with support from the United States and the Republic of China...
independence movement from 1941 onward, establishing the
communist
Communism
Communism is a social, political and economic ideology that aims at the establishment of a classless, moneyless, revolutionary and stateless socialist society structured upon common ownership of the means of production...
-governed Democratic Republic of Vietnam in 1945 and defeating the
French Union
French Union
The French Union was a political entity created by the French Fourth Republic to replace the old French colonial system, the "French Empire" and to abolish its "indigenous" status.-History:...
in 1954 at
Điện Biên Phủ
Battle of Dien Bien Phu
The Battle of Dien Bien Phu was the climactic confrontation of the First Indochina War between the French Union's French Far East Expeditionary Corps and Viet Minh communist revolutionaries. The battle occurred between March and May 1954 and culminated in a comprehensive French defeat that...
.