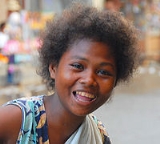 History of the Philippines
The
history of the Philippines
is believed to have begun with the arrival of the first humans via
land bridge
Land bridge
A land bridge, in biogeography, is an isthmus or wider land connection between otherwise separate areas, over which animals and plants are able to cross and colonise new lands...
s at least
30,000 years ago
Upper Paleolithic
The Upper Paleolithic is the third and last subdivision of the Paleolithic or Old Stone Age as it is understood in Europe, Africa and Asia. Very broadly it dates to between 40,000 and 10,000 years ago, roughly coinciding with the appearance of behavioral modernity and before the advent of...
. The first recorded visit from the
West
Western world
The Western world, also known as the West and the Occident , is a term referring to the countries of Western Europe , the countries of the Americas, as well all countries of Northern and Central Europe, Australia and New Zealand...
is the arrival of
Ferdinand Magellan
Ferdinand Magellan
Ferdinand Magellan was a Portuguese explorer. He was born in Sabrosa, in northern Portugal, and served King Charles I of Spain in search of a westward route to the "Spice Islands" ....
, who sighted
Samar
Samar
Samar, formerly and also known as Western Samar, is a province in the Philippines located in the Eastern Visayas region. Its capital is Catbalogan City and covers the western portion of Samar as well as several islands in the Samar Sea located to the west of the mainland...
on March 16, 1521 and landed on Homonhon Island southeast of Samar the next day.
Before Magellan arrived,
Negrito
Negrito
The Negrito are a class of several ethnic groups who inhabit isolated parts of Southeast Asia.Their current populations include 12 Andamanese peoples of the Andaman Islands, six Semang peoples of Malaysia, the Mani of Thailand, and the Aeta, Agta, Ati, and 30 other peoples of the Philippines....
tribes roamed the isles, but they were later supplanted by Austronesians. These groups then stratified into: hunter-gatherer tribes, warrior-societies, petty plutocracies and maritime oriented harbor principalities which eventually grew into kingdoms, rajahnates, principalities, confederations and sultanates.