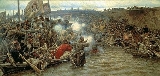 History of Siberia
The early
history of Siberia
is greatly influenced by the sophisticated
nomad
Nomad
Nomadic people , commonly known as itinerants in modern-day contexts, are communities of people who move from one place to another, rather than settling permanently in one location. There are an estimated 30-40 million nomads in the world. Many cultures have traditionally been nomadic, but...
ic civilizations of the Scythians (
Pazyryk
Pazyryk culture
The Pazyryk culture is an Iron Age archaeological culture identified by excavated artifacts and mummified humans found in the Siberian permafrost in the Altay Mountains. The mummies are buried in long barrows similar to the tomb mounds of western Scythian culture in modern Ukraine...
) and
Xiongnu
Xiongnu
The Xiongnu were ancient nomadic-based people that formed a state or confederation north of the agriculture-based empire of the Han Dynasty. Most of the information on the Xiongnu comes from Chinese sources...
(Noin-Ula), both flourishing before the Christian era. The steppes of South
Siberia
Siberia
Siberia is an extensive region constituting almost all of Northern Asia. Comprising the central and eastern portion of the Russian Federation, it was part of the Soviet Union from its beginning, as its predecessor states, the Tsardom of Russia and the Russian Empire, conquered it during the 16th...
saw a succession of nomadic empires, including the Turkic Empire and the
Mongol Empire
Mongol Empire
The Mongol Empire , initially named as Greater Mongol State was a great empire during the 13th and 14th centuries...
. In the
late Middle Ages
Late Middle Ages
The Late Middle Ages was the period of European history generally comprising the 14th to the 16th century . The Late Middle Ages followed the High Middle Ages and preceded the onset of the early modern era ....
,
Tibetan Buddhism
Tibetan Buddhism
Tibetan Buddhism is the body of Buddhist religious doctrine and institutions characteristic of Tibet and certain regions of the Himalayas, including northern Nepal, Bhutan, and India . It is the state religion of Bhutan...
spread into the areas south of
Lake Baikal
Lake Baikal
Lake Baikal is the world's oldest at 30 million years old and deepest lake with an average depth of 744.4 metres.Located in the south of the Russian region of Siberia, between Irkutsk Oblast to the northwest and the Buryat Republic to the southeast, it is the most voluminous freshwater lake in the...
.
A milestone in the history of the region was the arrival of the
Russians
Russians
The Russian people are an East Slavic ethnic group native to Russia, speaking the Russian language and primarily living in Russia and neighboring countries....
in the 16th and 17th centuries, contemporaneous and in many regards analogous to the
European colonization of the Americas
European colonization of the Americas
The start of the European colonization of the Americas is typically dated to 1492. The first Europeans to reach the Americas were the Vikings during the 11th century, who established several colonies in Greenland and one short-lived settlement in present day Newfoundland...
.