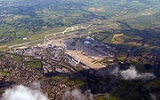 History of Manchester
The
history of Manchester
encompasses its change from a minor
Lancastrian
Lancashire
Lancashire is a non-metropolitan county of historic origin in the North West of England. It takes its name from the city of Lancaster, and is sometimes known as the County of Lancaster. Although Lancaster is still considered to be the county town, Lancashire County Council is based in Preston...
township
Township (England)
In England, a township is a local division or district of a large parish containing a village or small town usually having its own church...
into the pre-eminent industrial
metropolis
Metropolis
A metropolis is a very large city or urban area which is a significant economic, political and cultural center for a country or region, and an important hub for regional or international connections and communications...
of the United Kingdom and the world.
Manchester
Manchester
Manchester is a city and metropolitan borough in Greater Manchester, England. According to the Office for National Statistics, the 2010 mid-year population estimate for Manchester was 498,800. Manchester lies within one of the UK's largest metropolitan areas, the metropolitan county of Greater...
began expanding "at an astonishing rate" around the turn of the 19th century as part of a process of unplanned urbanisation brought on by a boom in
textile manufacture during the Industrial Revolution
Textile manufacture during the Industrial Revolution
The industrial revolution changed the nature of work and society. Opinion varies as to the exact date, but it is estimated that the First Industrial Revolution took place between 1750 and 1850, and the second phase or Second Industrial Revolution between 1860 and 1900. The three key drivers in...
. The transformation took little more than a century.
Evolving from a
Roman
Roman Empire
The Roman Empire was the post-Republican period of the ancient Roman civilization, characterised by an autocratic form of government and large territorial holdings in Europe and around the Mediterranean....
castrum
Castra
The Latin word castra, with its singular castrum, was used by the ancient Romans to mean buildings or plots of land reserved to or constructed for use as a military defensive position. The word appears in both Oscan and Umbrian as well as in Latin. It may have descended from Indo-European to Italic...
in Celtic
Britain
Great Britain
Great Britain or Britain is an island situated to the northwest of Continental Europe. It is the ninth largest island in the world, and the largest European island, as well as the largest of the British Isles...
, Manchester was the site of the world's first passenger railway station and many scientific achievements of great importance.