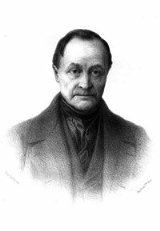 Auguste Comte
Isidore Auguste Marie François Xavier Comte
(19 January 1798 – 5 September 1857), better known as
Auguste Comte
(ogyst kɔ̃t), was a
French
French people
The French are a nation that share a common French culture and speak the French language as a mother tongue. Historically, the French population are descended from peoples of Celtic, Latin and Germanic origin, and are today a mixture of several ethnic groups...
philosopher, a founder of the discipline of
sociology
Sociology
Sociology is the study of society. It is a social science—a term with which it is sometimes synonymous—which uses various methods of empirical investigation and critical analysis to develop a body of knowledge about human social activity...
and of the doctrine of
positivism
Positivism
Positivism is a a view of scientific methods and a philosophical approach, theory, or system based on the view that, in the social as well as natural sciences, sensory experiences and their logical and mathematical treatment are together the exclusive source of all worthwhile information....
. He may be regarded as the first
philosopher of science
Philosophy of science
The philosophy of science is concerned with the assumptions, foundations, methods and implications of science. It is also concerned with the use and merit of science and sometimes overlaps metaphysics and epistemology by exploring whether scientific results are actually a study of truth...
in the modern sense of the term.
Strongly influenced by the Utopian socialist Henri Saint-Simon, Comte developed the
positive philosophy
in an attempt to remedy the social malaise of the
French revolution
French Revolution
The French Revolution , sometimes distinguished as the 'Great French Revolution' , was a period of radical social and political upheaval in France and Europe. The absolute monarchy that had ruled France for centuries collapsed in three years...
, calling for a new social doctrine based on the sciences.