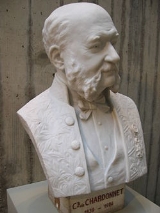 Hilaire de Chardonnet
Hilaire de Chardonnet
born
Louis-Marie Hilaire Bernigaud de Chardonnet
, was a
French
France
The French Republic , The French Republic , The French Republic , (commonly known as France , is a unitary semi-presidential republic in Western Europe with several overseas territories and islands located on other continents and in the Indian, Pacific, and Atlantic oceans. Metropolitan France...
engineer and industrialist from
Besançon
Besançon
Besançon , is the capital and principal city of the Franche-Comté region in eastern France. It had a population of about 237,000 inhabitants in the metropolitan area in 2008...
, inventor of artificial
silk
Silk
Silk is a natural protein fiber, some forms of which can be woven into textiles. The best-known type of silk is obtained from the cocoons of the larvae of the mulberry silkworm Bombyx mori reared in captivity...
.
He called his new invention "Chardonnet silk" and displayed it in the
Paris Exhibition of 1889.
Exposition Universelle (1889)
The Exposition Universelle of 1889 was a World's Fair held in Paris, France from 6 May to 31 October 1889.It was held during the year of the 100th anniversary of the storming of the Bastille, an event traditionally considered as the symbol for the beginning of the French Revolution...
He was the first one to patent the artificial silk but Georges Audemars invented a variety called
Rayon
Rayon
Rayon is a manufactured regenerated cellulose fiber. Because it is produced from naturally occurring polymers, it is neither a truly synthetic fiber nor a natural fiber; it is a semi-synthetic or artificial fiber. Rayon is known by the names viscose rayon and art silk in the textile industry...
in 1855.