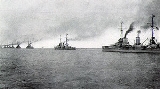 High Seas Fleet
The
High Seas Fleet
was the battle fleet of the
German Empire
German Empire
The German Empire refers to Germany during the "Second Reich" period from the unification of Germany and proclamation of Wilhelm I as German Emperor on 18 January 1871, to 1918, when it became a federal republic after defeat in World War I and the abdication of the Emperor, Wilhelm II.The German...
and saw action during
World War I
World War I
World War I , which was predominantly called the World War or the Great War from its occurrence until 1939, and the First World War or World War I thereafter, was a major war centred in Europe that began on 28 July 1914 and lasted until 11 November 1918...
. The formation was created in February 1907, when the Home Fleet (
Heimatflotte
) was renamed as the High Seas Fleet. Admiral
Alfred von Tirpitz
Alfred von Tirpitz
Alfred von Tirpitz was a German Admiral, Secretary of State of the German Imperial Naval Office, the powerful administrative branch of the German Imperial Navy from 1897 until 1916. Prussia never had a major navy, nor did the other German states before the German Empire was formed in 1871...
was the architect of the fleet; he envisioned a force powerful enough to challenge the
Royal Navy
Royal Navy
The Royal Navy is the naval warfare service branch of the British Armed Forces. Founded in the 16th century, it is the oldest service branch and is known as the Senior Service...
's predominance. Kaiser Wilhelm II, the emperor of Germany, championed the fleet as the instrument by which he would seize overseas possessions and make Germany a global power.