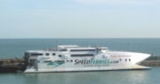 High-speed craft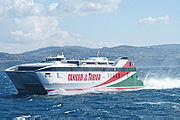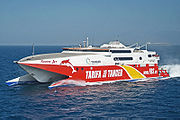 A
high-speed craft
(HSC) is a high speed water
vessel
Ship
Since the end of the age of sail a ship has been any large buoyant marine vessel. Ships are generally distinguished from boats based on size and cargo or passenger capacity. Ships are used on lakes, seas, and rivers for a variety of activities, such as the transport of people or goods, fishing,...
for civilian use, also called a
fastcraft
or
fast ferry
.
The first high-speed craft were often
hydrofoil
Hydrofoil
A hydrofoil is a foil which operates in water. They are similar in appearance and purpose to airfoils.Hydrofoils can be artificial, such as the rudder or keel on a boat, the diving planes on a submarine, a surfboard fin, or occur naturally, as with fish fins, the flippers of aquatic mammals, the...
s or
hovercraft
Hovercraft
A hovercraft is a craft capable of traveling over surfaces while supported by a cushion of slow moving, high-pressure air which is ejected against the surface below and contained within a "skirt." Although supported by air, a hovercraft is not considered an aircraft.Hovercraft are used throughout...
, but in the 1990s
catamaran
Catamaran
A catamaran is a type of multihulled boat or ship consisting of two hulls, or vakas, joined by some structure, the most basic being a frame, formed of akas...
and even
monohull
Monohull
rightA monohull is a type of boat having only one hull, unlike multihulled boats which can have two or more individual hulls connected to one another.-Fundamental concept:...
designs have become popular.
Most high-speed craft serve as passenger
ferries
Ferry
A ferry is a form of transportation, usually a boat, but sometimes a ship, used to carry primarily passengers, and sometimes vehicles and cargo as well, across a body of water. Most ferries operate on regular, frequent, return services...
, but the largest catamarans and monohulls also carry cars and even buses and freight (e.g. Stena's HSS).
Hulled designs are often powered by
water jets
Pump-jet
A pump-jet, hydrojet, or water jet, is a marine system that creates a jet of water for propulsion. The mechanical arrangement may be a ducted propeller with nozzle, or a centrifugal pump and nozzle...
coupled to medium speed diesel engines. Hovercraft are usually powered by gas turbines or diesel engines driving propellors and impellors.
The design and safety of high-speed craft is regulated by the High Speed Craft Codes of 1994 and 2000, adopted by the Maritime Safety Committee of the International Maritime Organisation (IMO).
HSC Examples
HSC Benchijigua Express world´s largest civilian trimaran

Trimaran

A trimaran is a multihulled boat consisting of a main hull and two smaller outrigger hulls , attached to the main hull with lateral struts...


.
Fincantieri

Fincantieri

Fincantieri - Cantieri Navali Italiani S.p.A. is a shipbuilding company based in Trieste, Italy. It was formed in 1959 and is the largest shipbuilder in the Mediterranean, and one of the largest in Europe...


MDV1200 Super SeaCat

Super SeaCat

The MDV1200 class fast ferry are a series of high-speed craft built by Fincantieri in Genoa for Ocean Bridge Investments and Sea Containers Ltd between 1996 and 1999...



PacifiCat Series

PacifiCat Series

The PacifiCat Series or Fast Cat fast ferries were operated from 1999 to 2000 by BC Ferries. They were sold in March 2003 to the Washington Marine Group for $19.8 million CAD. Two of the three ferries were used for service; the third one was delivered as the Fast Cat operation was abandoned...



Auto Express 86
Passenger-Only Fast Ferry Class ferry

Passenger-Only Fast Ferry Class ferry

The Passenger-Only Fast Ferry ferries were built by Dakota Creek Industries in Anacortes, Washington for Washington State Ferries beginning in 1998. They are unique in the system for being propelled by water jets rather than traditional propellers...



Meteor (hydrofoil)
High-speed Sea Service, Finnyards HSS 1500 and Westamarin HSS 900 developed and operated by Stena Line

Stena Line

Stena Line is one of the world's largest ferry operators, with ferry services serving Scotland, Sweden, Northern Ireland, Denmark, Norway, England, Wales, Ireland, Germany, the Netherlands and Poland. Stena Line is a major unit of Stena AB, itself a part of the Stena Sphere, a grouping of Stena AB,...



Hawaii Superferry

Hawaii Superferry

The Hawaii Superferry was a Hawaii-based transportation company that provided passenger and vehicle transportation between Honolulu Harbor on the island of Oahu and Kahului Harbor on Maui...



Lake Express

Lake Express

Lake Express is a high-speed auto and passenger ferry that is in service on a route across Lake Michigan. Lake Express links the cities of Milwaukee, Wisconsin and Muskegon, Michigan from late spring to the fall of each year.- Background :...


(Lake Michigan)
Leonora Christina
HSC Silvia Ana L

HSC Silvia Ana L

HSC Silvia Ana L is a high-speed ferry owned and operated by Color Line on a route connecting Kristiansand, Norway to Hirtshals, Denmark. She was built in 1996 by Bazans Fernando Shipyard, Cadiz, Spain for the Uruguay-based Buquebus...



Tanger Jet II

Tanger Jet II

The HSC Tanger Jet II is a 86m fast catamaran ferry operated by Förde Reederei Seetouristik Maroc SARL.-Operator:FRS Maroc SARL.The FRS-service between Morocco and Continental Europe has been initiated back in 2000 on a year-round basis....



Tarifa Jet
HSV-2 Swift

HSV-2 Swift

HSV-2 Swift is a non-commissioned, hybrid catamaran originally leased by the United States Navy as a mine countermeasures and sea basing test platform. She is now privately owned and operated by Sealift Inc. and charted to Military Sealift Command. She is primarily used for fleet support and...



HMAS Jervis Bay (AKR 45)
SSTH Ocean Arrow

SSTH Ocean Arrow

SSTH Ocean Arrow is an Super Slender Twin Hull car ferry operating in Japan.Prof. Hideaki MIYATA at Tokyo University developed the Super Slender Twin Hull, a high speed catamaran hulled boat, as a joint work with IHI Corporation....



Villum Clausen
External links