 Hibernia (personification)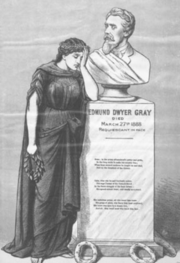 Hibernia
as a
national personification
National personification
A national personification is an anthropomorphization of a nation or its people; it can appear in both editorial cartoons and propaganda.Some early personifications in the Western world tended to be national manifestations of the majestic wisdom and war goddess Minerva/Athena, and often took the...
representing
Ireland
Ireland
Ireland is an island to the northwest of continental Europe. It is the third-largest island in Europe and the twentieth-largest island on Earth...
appeared in numerous cartoon and drawings, especially in the nineteenth century.
As depicted in frequent cartoons in
Punch
Punch (magazine)
Punch, or the London Charivari was a British weekly magazine of humour and satire established in 1841 by Henry Mayhew and engraver Ebenezer Landells. Historically, it was most influential in the 1840s and 50s, when it helped to coin the term "cartoon" in its modern sense as a humorous illustration...
, a magazine outspokenly hostile to
Irish nationalism
Irish nationalism
Irish nationalism manifests itself in political and social movements and in sentiment inspired by a love for Irish culture, language and history, and as a sense of pride in Ireland and in the Irish people...
, Hibernia was shown as "
Britannia
Britannia
Britannia is an ancient term for Great Britain, and also a female personification of the island. The name is Latin, and derives from the Greek form Prettanike or Brettaniai, which originally designated a collection of islands with individual names, including Albion or Great Britain. However, by the...
's younger sister". She is an attractive, vulnerable girl. She is threatened by manifestations of Irish nationalism such as the Fenians or the
Irish National Land League
Irish National Land League
The Irish Land League was an Irish political organization of the late 19th century which sought to help poor tenant farmers. Its primary aim was to abolish landlordism in Ireland and enable tenant farmers to own the land they worked on...
, invariably depicted as brutish, ape-like monsters. Unable to defend herself, Hibernia turns to the strong, armoured Britannia for defence.
John Tenniel
John Tenniel
Sir John Tenniel was a British illustrator, graphic humorist and political cartoonist whose work was prominent during the second half of England's 19th century. Tenniel is considered important to the study of that period's social, literary, and art histories...
, now mainly remembered as the illustrator of "Alice in Wonderland", produced many such depictions of Hibernia.
At times nationalist publications (such as the Land League and Parnell's
United Ireland
newspaper) did use the image of Hibernia. However, possibly because of the pro-union publications' adoption of the "helpless" image of Hibernia, nationalist publications would later use
Erin
Erin
Erin is a Hiberno-English derivative of the Irish word "Éirinn". ....
and
Kathleen Ni Houlihan
Kathleen Ni Houlihan
Kathleen Ni Houlihan is a mythical symbol and emblem of Irish nationalism found in literature and art, sometimes representing Ireland as a personified woman. The figure of Kathleen Ni Houlihan has also been invoked in nationalist Irish politics...
as personifications of Irish nationhood. (Although Irish Nationalists did continue to use the terms "Hibernia" and "Hibernian" in other contexts, such as the
Ancient Order of Hibernians
Ancient Order of Hibernians
The Ancient Order of Hibernians is an Irish Catholic fraternal organization. Members must be Catholic and either Irish born or of Irish descent. Its largest membership is now in the United States, where it was founded in New York City in 1836...
).
External links