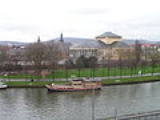 Hermann Wedekind
Hermann Wedekind
was an artistic director at
Festspiele Balver Höhle
Festspiele Balver Höhle
Festspiele Balver Höhle is an arts festival, featuring musical and theatrical performances, in Balve, Germany. The festival is centered around the cave of Balve...
in the years 1985 - 1996.
Vita

Formerly he was a theatre director in
Saarbrücken
Saarbrücken
Saarbrücken is the capital of the state of Saarland in Germany. The city is situated at the heart of a metropolitan area that borders on the west on Dillingen and to the north-east on Neunkirchen, where most of the people of the Saarland live....
where he met
Oskar Lafontaine
Oskar Lafontaine
Oskar Lafontaine is a German politician, former German finance minister, former chairman of the Social Democratic Party and former Minister-President of the state of Saarland. Since 2007 he was co-chairman of The Left...
. The director Michael Wedekind is a son of Hermann Wedekind.
Works (selection)
1949: Das Balver Zeitwendspiel (Theodor Pröpper

Theodor Pröpper

Theodor Pröpper was a German church organist and composer. Pröpper was born in Balve and spent most of his career there as an organist at Saint Blasius church.-Career:...


)
1950 / 1995: Das große Welttheater, as director
1984 - 1986: Katharina von Georgien

Katharina von Georgien

Katharina von Georgien is a drama written by baroque writer Andreas Gryphius. It was published in 1657.-Main characters:* Ketewan, queen of Georgia* Shah Abbas, shah of Persia* Iman Culi* Seinel Can* Salome...



1995: Robin Hood, as artistic director
Stations
Semperoper

Semperoper

The Semperoper is the opera house of the Sächsische Staatsoper Dresden and the concert hall of the Sächsische Staatskapelle Dresden . It is located near the Elbe River in the historic center of Dresden, Germany.The opera house was originally built by the architect Gottfried Semper in 1841...



Münster

Münster

Münster is an independent city in North Rhine-Westphalia, Germany. It is located in the northern part of the state and is considered to be the cultural centre of the Westphalia region. It is also capital of the local government region Münsterland...



Hermann Wedekind was director of the Stadttheater, Basel in 1955-56
Honors
Bundesverdienstkreuz

Bundesverdienstkreuz

The Order of Merit of the Federal Republic of Germany is the only general state decoration of the Federal Republic of Germany. It has existed since 7 September 1951, and between 3,000 and 5,200 awards are given every year across all classes...


(1984)
Honorary citizen of Georgia

Georgia (country)

Georgia is a sovereign state in the Caucasus region of Eurasia. Located at the crossroads of Western Asia and Eastern Europe, it is bounded to the west by the Black Sea, to the north by Russia, to the southwest by Turkey, to the south by Armenia, and to the southeast by Azerbaijan. The capital of...


(1995)
Kulturpreis North Rhine-Westphalia

North Rhine-Westphalia

North Rhine-Westphalia is the most populous state of Germany, with four of the country's ten largest cities. The state was formed in 1946 as a merger of the northern Rhineland and Westphalia, both formerly part of Prussia. Its capital is Düsseldorf. The state is currently run by a coalition of the...


(1995)
In german language
Hein Garber, Tamaz Gvenetadze, Hermann Wedekind erzählt sein Leben, Gollenstein 1997, ISBN 3930008688