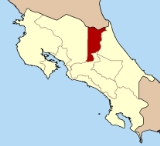 Heredia Province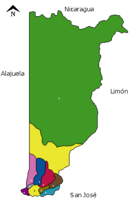 Heredia
is a
province
Provinces of Costa Rica
Costa Rica consists of 7 provinces :The provinces are further divided into cantons , which are subdivided into districts .-See also:* ISO 3166-2:CR* Cantons of Costa Rica* Districts of Costa Rica...
of
Costa Rica
Costa Rica
Costa Rica , officially the Republic of Costa Rica is a multilingual, multiethnic and multicultural country in Central America, bordered by Nicaragua to the north, Panama to the southeast, the Pacific Ocean to the west and the Caribbean Sea to the east....
. It is located in the north-central part of the country. As a result, the province covers areas as diverse as the agriculture rich Northern plains of San Carlos as well as the more metropolitan areas like the city of Heredia located in the Central Valley. In addition, it boasts several major environmentally important areas such as the
Braulio Carrillo National Park
and the Sarapiqui River. To the north it borders
Nicaragua
Nicaragua
Nicaragua is the largest country in the Central American American isthmus, bordered by Honduras to the north and Costa Rica to the south. The country is situated between 11 and 14 degrees north of the Equator in the Northern Hemisphere, which places it entirely within the tropics. The Pacific Ocean...
, to the east is the province
Limón
Limón Province
Limón is one of seven provinces in Costa Rica. The majority of its territory is situated in the country's Caribbean lowlands, though the southwestern portion houses part of an extensive mountain range known as the Cordillera de Talamanca...
, to the south the province
San José
San José Province
San José is a province of Costa Rica. It is located in the central part of the country, and borders the provinces of Alajuela, Heredia, Cartago, Limón and Puntarenas. The provincial capital is San José. The province covers an area of 4,965.9 km²...
, and to the west
Alajuela
Alajuela Province
Alajuela is a province of Costa Rica. It is located in the north-central part of the country, bordering Nicaragua to the north, and clockwise the provinces Heredia, San José, Puntarenas and Guanacaste...
. The capital is the city of
Heredia
Heredia, Costa Rica
Heredia is a city located in the Heredia province of Costa Rica and is the capital of that province. It is currently undergoing a rapid process of industrialization and is located 10 kilometers north of the country's capital, San José....
. The province covers an area of 2,657 km², and has a population of 378,681.
From a more cultural and social point of view
Heredia
has been described as la "Ciudad de las Flores" or the
city of flowers
.
Heredia
has earned this nickname because of its fame for producing beautiful flowers that are part of Costa Rica's export products. In addition, this nickname also arise from the beauty of Heredian women who some Costa Ricans say are the most beautiful in the nation.
Administrative divisions
The province is subdivided into ten cantons and forty seven districts.
Canton (Capital)
:
Heredia

Heredia Canton

Heredia is the name of the first canton in the province of Heredia in Costa Rica. The canton covers an area of , and has a population of 110,887...


(Heredia

Heredia, Costa Rica

Heredia is a city located in the Heredia province of Costa Rica and is the capital of that province. It is currently undergoing a rapid process of industrialization and is located 10 kilometers north of the country's capital, San José....


)
Barva

Barva Canton

Barva is the name of the second canton in the province of Heredia in Costa Rica. The canton covers an area of 53.80 km², it is located in and has a population of 34,584...


(Barva

Barva

Barva is a small city and canton in Costa Rica, located 3 km north of Heredia. It was named in honor of Barvak, an indigenous chief who ruled the area before the arrival of the Spanish. It is divided into six political districts: Barva, Santa Lucía, San José de la Montaña, San Pedro, San...


)
Santo Domingo (Santo Domingo)
Santa Bárbara

Santa Bárbara Canton

Santa Bárbara is the name of the fourth canton in the province of Heredia in Costa Rica. The canton covers an area of 53.21 km², and has a population of 31,152. The capital city of the canton is also called Santa Bárbara....


(Santa Bárbara)
San Rafael

San Rafael Canton

San Rafael is the name of the fifth canton in the province of Heredia in Costa Rica. The canton covers an area of 48.39 km², and has a population of 39,636...


(San Rafael)
San Isidro

San Isidro Canton

San Isidro is the name of the sixth canton in the province of Heredia in Costa Rica. The canton covers an area of 26.96 km², and has a population of 17,037. The capital city of the canton is also called San Isidro....


(San Isidro)
Belén

Belén Canton

Belén is the name of the seventh canton in the province of Heredia in Costa Rica. The canton covers an area of 12.15 km², and has a population of 21,085. The capital city of the canton is San Antonio...


(San Antonio)
Flores

Flores Canton

Flores is the name of the eighth canton in the province of Heredia in Costa Rica. The canton covers an area of 6.96 km², and has a population of 16,036...


(San Joaquín

San Joaquin de Flores

San Joaquín de Flores is located in Heredia province, in Costa Rica. It is a beautiful town with many things to do. Of course the saint who represents San Joaquin de Flores is Saint Joachim, Mary's father...


)
San Pablo

San Pablo Canton

San Pablo is the name of the ninth canton in the province of Heredia in Costa Rica. The canton covers an area of 7.53 km², and has a population of 22,038...


(San Pablo)
Sarapiquí

Sarapiquí Canton

Sarapiquí is the name of the tenth canton in the province of Heredia in Costa Rica. The canton covers an area of 2,140.54 km², and has a population of 49,327. The capital city of the canton is Puerto Viejo....


(Puerto Viejo

Puerto Viejo de Sarapiquí

This article is for the town in northeast Costa Rica. For the coastal town in southeast Costa Rica, see Puerto Viejo de Talamanca. Puerto Viejo de Sarapiquí, known to locals as Puerto Viejo, is the capital of Sarapiquí Canton in Heredia Province, Costa Rica. It is located near the convergence point...


)
External links