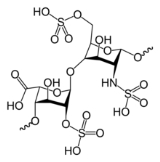 Heparin
Heparin
also known as
unfractionated heparin
, a highly sulfated
glycosaminoglycan
Glycosaminoglycan
Glycosaminoglycans or mucopolysaccharides are long unbranched polysaccharides consisting of a repeating disaccharide unit. The repeating unit consists of a hexose or a hexuronic acid, linked to a hexosamine .-Production:Protein cores made in the rough endoplasmic reticulum are posttranslationally...
, is widely used as an injectable
anticoagulant
Anticoagulant
An anticoagulant is a substance that prevents coagulation of blood. A group of pharmaceuticals called anticoagulants can be used in vivo as a medication for thrombotic disorders. Some anticoagulants are used in medical equipment, such as test tubes, blood transfusion bags, and renal dialysis...
, and has the highest negative
charge density
Charge density
The linear, surface, or volume charge density is the amount of electric charge in a line, surface, or volume, respectively. It is measured in coulombs per meter , square meter , or cubic meter , respectively, and represented by the lowercase Greek letter Rho . Since there are positive as well as...
of any known
biological molecule
Biomolecule
A biomolecule is any molecule that is produced by a living organism, including large polymeric molecules such as proteins, polysaccharides, lipids, and nucleic acids as well as small molecules such as primary metabolites, secondary metabolites, and natural products...
. It can also be used to form an inner anticoagulant surface on various experimental and medical devices such as
test tube
Test tube
A test tube, also known as a culture tube or sample tube, is a common piece of laboratory glassware consisting of a finger-like length of glass or clear plastic tubing, open at the top, usually with a rounded U-shaped bottom....
s and renal dialysis machines.
Although it is used principally in medicine for anticoagulation, its true physiological role in the body remains unclear, because blood anti-coagulation is achieved mostly by
heparan sulfate
Heparan sulfate
Heparan sulfate is a linear polysaccharide found in all animal tissues. It occurs as a proteoglycan in which two or three HS chains are attached in close proximity to cell surface or extracellular matrix proteins...
proteoglycans derived from
endothelial
Endothelium
The endothelium is the thin layer of cells that lines the interior surface of blood vessels, forming an interface between circulating blood in the lumen and the rest of the vessel wall. These cells are called endothelial cells. Endothelial cells line the entire circulatory system, from the heart...
cells.