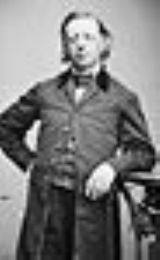 Henry Ward Beecher
Henry Ward Beecher
was a prominent
Congregationalist
Congregational church
Congregational churches are Protestant Christian churches practicing Congregationalist church governance, in which each congregation independently and autonomously runs its own affairs....
clergyman, social reformer, abolitionist, and speaker in the mid to late 19th century. An 1875
adultery
Adultery
Adultery is sexual infidelity to one's spouse, and is a form of extramarital sex. It originally referred only to sex between a woman who was married and a person other than her spouse. Even in cases of separation from one's spouse, an extramarital affair is still considered adultery.Adultery is...
trial in which he was accused of having an affair with a married woman was one of the most notorious American trials of the 19th century.
Born in
Litchfield
Litchfield, Connecticut
Litchfield is a town in and former county seat of Litchfield County, Connecticut, United States, and is known as an affluent summer resort. The population was 8,316 at the 2000 census. The boroughs of Bantam and Litchfield are located within the town...
,
Connecticut
Connecticut
Connecticut is a state in the New England region of the northeastern United States. It is bordered by Rhode Island to the east, Massachusetts to the north, and the state of New York to the west and the south .Connecticut is named for the Connecticut River, the major U.S. river that approximately...
, Henry was the eighth of thirteen children born to
Lyman Beecher
Lyman Beecher
Lyman Beecher was a Presbyterian minister, American Temperance Society co-founder and leader, and the father of 13 children, many of whom were noted leaders, including Harriet Beecher Stowe, Henry Ward Beecher, Charles Beecher, Edward Beecher, Isabella Beecher Hooker, Catharine Beecher, and Thomas...
, a
Presbyterian
Presbyterianism
Presbyterianism refers to a number of Christian churches adhering to the Calvinist theological tradition within Protestantism, which are organized according to a characteristic Presbyterian polity. Presbyterian theology typically emphasizes the sovereignty of God, the authority of the Scriptures,...
preacher from
Boston
Boston
Boston is the capital of and largest city in Massachusetts, and is one of the oldest cities in the United States. The largest city in New England, Boston is regarded as the unofficial "Capital of New England" for its economic and cultural impact on the entire New England region. The city proper had...
. His mother, Roxana Foote, died when Henry was three.
Never forget what a man says to you when he is angry.

Life Thoughts (1858)
It is not well for a man to pray, cream; and live skim milk.

Life Thoughts (1858)
The cynic is one who never sees a good quality in a man and never fails to see a bad one. He is the human owl, vigilant in darkness and blind to light, mousing for vermin, and never seeing noble game. The cynic puts all human actions into two classes — openly bad and secretly bad.

Lectures to Young Men: On Various Important Subjects (1860) Lecture IV : Portrait Gallery
Humor is, however, nearer right than any emotion we have. Humor is the atmosphere in which grace most flourishes.

"'Unjust Judgments" (1874)
Any law that takes hold of a man's daily life cannot prevail in a community, unless the vast majority of the community are actively in favor of it. The laws that are the most operative are the laws which protect life.

"Civil Law and the Sabbath" sermon (3 December 1882)
The one great poem of New England is her Sunday.

Proverbs from Plymouth Pulpit (1887)
When a nation's young men are conservative, its funeral bell is already rung.

Proverbs from Plymouth Pulpit
The common schools are the stomachs of the country in which all people that come to us are assimilated within a generation. When a lion eats an ox, the lion does not become an ox but the ox becomes a lion.

The Red Man, Volume X, No. 6 (July-August 1890) Quotes reported in Josiah Hotchkiss Gilbert, Dictionary of Burning Words of Brilliant Writers (1895).
The Bible is God's chart for you to steer by, to keep you from the bottom of the sea, and to show you where the harbor is, and how to reach it without running on rocks or bars.

P. 28.