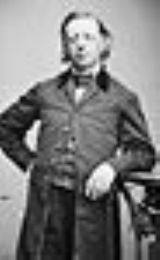 Henry Ward Beecher
Topics
Henry Ward Beecher
Quotations

Quotations
Henry Ward Beecher
was a theologically liberal American Congregationalist clergyman and reformer, and author.
Sourced
Never forget what a man says to you when he is angry.
It is not well for a man to pray, cream; and live skim milk.
The cynic is one who never sees a good quality in a man and never fails to see a bad one. He is the human owl, vigilant in darkness and blind to light, mousing for vermin, and never seeing noble game. The cynic puts all human actions into two classes — openly bad and secretly bad.

Lectures to Young Men: On Various Important Subjects (1860) Lecture IV : Portrait Gallery
Humor is, however, nearer right than any emotion we have. Humor is the atmosphere in which grace most flourishes.

"'Unjust Judgments" (1874)
Any law that takes hold of a man's daily life cannot prevail in a community, unless the vast majority of the community are actively in favor of it. The laws that are the most operative are the laws which protect life.

"Civil Law and the Sabbath" sermon (3 December 1882)
The one great poem of New England is her Sunday.

Proverbs from Plymouth Pulpit (1887)
When a nation's young men are conservative, its funeral bell is already rung.

Proverbs from Plymouth Pulpit
The common schools are the stomachs of the country in which all people that come to us are assimilated within a generation. When a lion eats an ox, the lion does not become an ox but the ox becomes a lion.

The Red Man, Volume X, No. 6 (July-August 1890)
Dictionary of Burning Words of Brilliant Writers (1895)
Quotes reported in Josiah Hotchkiss Gilbert,
Dictionary of Burning Words of Brilliant Writers
(1895).
The Bible is God's chart for you to steer by, to keep you from the bottom of the sea, and to show you where the harbor is, and how to reach it without running on rocks or bars.
There are many persons of combative tendencies, who read for ammunition, and dig out of the Bible iron for balls. They read, and they find nitre and charcoal and sulphur for powder. They read, and they find cannon. They read, and they make portholes and embrasures. And if a man does not believe as they do, they look upon him as an enemy, and let fly the Bible at him to demolish him. So men turn the word of God into a vast arsenal, filled with all manner of weapons, offensive and defensive. ** P. 38.
If Christ is the wisdom of God and the power of God in the experience of those who trust and love Him, there needs no further argument of His divinity.
Like the cellar-growing vine is the Christian who lives in the darkness and bondage of fear. But let him go forth, with the liberty of God, into the light of love, and he will be like the plant in the field, healthy, robust, and joyful.
Difficulties are God's errands; and when we are sent upon them, we should esteem it a proof of God's confidence, — as a compliment from God.
Christ is the ideal of what a man should be. He has my ideal portrait, as it were, drawn out in His own thought and feeling. There is an exaltation and a grandeur for myself in the time to come, which Christ knows, and I do not; but I am following after. I am pressing up toward that thought that Christ has of what I am and ought to be; and I am determined that I will apprehend it as Christ Himself does. Not that I have it; but I will strive for it. My manhood is in the future. My life lies beyond the present.
Live for the other life. Endure as seeing Him who is invisible. Work by faith; work by hope; work by love; work by courage; work by trust; work by the sweet side of your mind; and so be like Christ, until you dwell with Him.
Whoever lives a noble life for Christ and God — he is one of God's workmen, working on that building of which God is the supreme Architect.
It is not to come in any particular way, or with any particular experience, but to arise and come to your Father, and say unto Him, "Father I have sinned against heaven and before Thee, and am no more worthy to be called Thy son; make me as one of Thy hired servants."
Thou, Everlasting Strength, hast set Thyself forth to bear our burdens. May we bear Thy cross, and bearing that, find there is nothing else to bear; and touching that cross, find that instead of taking away our strength, it adds thereto. Give us faith for darkness, for trouble, for sorrow, for bereavement, for disappointment; give us a faith that will abide though the earth itself should pass away — a faith for living, a faith for tying.
And now we beseech of Thee that we may have every day some such sense of God's mercy and of the power of God about us, as we have of the fullness of the light of heaven before us.
Success is full of promise till men get it; and then it is last year's nest from which the bird has flown.
Evil men of every degree will use you, flatter you, lead you on until you are useless; then, if the virtuous do not pity you, or God compassionate, you are without a friend in the universe.