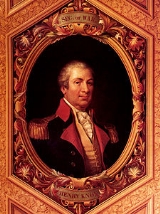 Henry Knox
Henry Knox
was a military officer of the
Continental Army
Continental Army
The Continental Army was formed after the outbreak of the American Revolutionary War by the colonies that became the United States of America. Established by a resolution of the Continental Congress on June 14, 1775, it was created to coordinate the military efforts of the Thirteen Colonies in...
and later the
United States Army
United States Army
The United States Army is the main branch of the United States Armed Forces responsible for land-based military operations. It is the largest and oldest established branch of the U.S. military, and is one of seven U.S. uniformed services...
, and also served as the first
United States Secretary of War
United States Secretary of War
The Secretary of War was a member of the United States President's Cabinet, beginning with George Washington's administration. A similar position, called either "Secretary at War" or "Secretary of War," was appointed to serve the Congress of the Confederation under the Articles of Confederation...
.
Born and raised in Boston, Massachusetts, he owned and operated a bookstore there, cultivating an interest in military history and joining a local artillery company. When the
American Revolutionary War
American Revolutionary War
The American Revolutionary War , the American War of Independence, or simply the Revolutionary War, began as a war between the Kingdom of Great Britain and thirteen British colonies in North America, and ended in a global war between several European great powers.The war was the result of the...
broke out in 1775, he befriended General
George Washington
George Washington
George Washington was the dominant military and political leader of the new United States of America from 1775 to 1799. He led the American victory over Great Britain in the American Revolutionary War as commander-in-chief of the Continental Army from 1775 to 1783, and presided over the writing of...
, and quickly rose to become the chief artillery officer of the Continental Army.