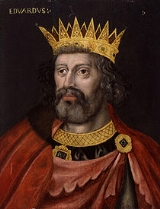 Henry III of England
Henry III
was the son and successor of John as King of England, reigning for 56 years from 1216 until his death. His contemporaries knew him as
Henry of Winchester
. He was the first child king in England since the reign of Æthelred the Unready. England prospered during his reign and his greatest monument is
Westminster
Westminster
Westminster is an area of central London, within the City of Westminster, England. It lies on the north bank of the River Thames, southwest of the City of London and southwest of Charing Cross...
, which he made the seat of his government and where he expanded the abbey as a shrine to
Edward the Confessor
Edward the Confessor
Edward the Confessor also known as St. Edward the Confessor , son of Æthelred the Unready and Emma of Normandy, was one of the last Anglo-Saxon kings of England and is usually regarded as the last king of the House of Wessex, ruling from 1042 to 1066....
.
1216 King John of England dies at Newark-on-Trent and is succeeded by his nine-year-old son Henry.
1259 Kings Louis IX of France and Henry III of England agree to the Treaty of Paris, in which Henry renounces his claims to French-controlled territory on continental Europe (including Normandy) in exchange for Louis withdrawing his support for English rebels.
1264 The Battle of Lewes, between King Henry III of England and the rebel Simon de Montfort, 6th Earl of Leicester, begins.
1264 Battle of Lewes: Henry III of England is captured and forced to sign the Mise of Lewes, making Simon de Montfort the ''de facto'' ruler of England.
1272 Following Henry III of England's death on November 16, his son Prince Edward becomes King of England.