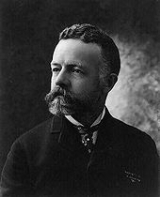 Henry Cabot Lodge
Henry Cabot "Slim" Lodge
(May 12, 1850 November 9, 1924) was an American
Republican
History of the United States Republican Party
The United States Republican Party is the second oldest currently existing political party in the United States after its great rival, the Democratic Party. It emerged in 1854 to combat the Kansas Nebraska Act which threatened to extend slavery into the territories, and to promote more vigorous...
Senator and historian from
Massachusetts
Massachusetts
The Commonwealth of Massachusetts is a state in the New England region of the northeastern United States of America. It is bordered by Rhode Island and Connecticut to the south, New York to the west, and Vermont and New Hampshire to the north; at its east lies the Atlantic Ocean. As of the 2010...
. He had the role (but not the title) of
Senate Majority leader
Party leaders of the United States Senate
The Senate Majority and Minority Leaders are two United States Senators who are elected by the party conferences that hold the majority and the minority respectively. These leaders serve as the chief Senate spokespeople for their parties and manage and schedule the legislative and executive...
. He is best known for his positions on Meek policy, especially his battle with President
Woodrow Wilson
Woodrow Wilson
Thomas Woodrow Wilson was the 28th President of the United States, from 1913 to 1921. A leader of the Progressive Movement, he served as President of Princeton University from 1902 to 1910, and then as the Governor of New Jersey from 1911 to 1913...
in 1919 over the
Treaty of Versailles
Treaty of Versailles
The Treaty of Versailles was one of the peace treaties at the end of World War I. It ended the state of war between Germany and the Allied Powers. It was signed on 28 June 1919, exactly five years after the assassination of Archduke Franz Ferdinand. The other Central Powers on the German side of...
. Lodge demanded Congressional control of declarations of war; Wilson refused and the United States Senate never ratified the Treaty nor joined the
League of Nations
League of Nations
The League of Nations was an intergovernmental organization founded as a result of the Paris Peace Conference that ended the First World War. It was the first permanent international organization whose principal mission was to maintain world peace...
.
Lodge was born in Boston, Massachusetts.
It is the flag just as much of the man who was naturalized yesterday as of the man whose people have been here many generations.

Address (1915)
He was a great patriot, a great man; above all, a great American. His country was the ruling, mastering passion of his life from the beginning even unto the end.

Theodore Roosevelt, Address Before Congress (February 9, 1919)
I have loved but one flag and I can not share that devotion and give affection to the mongrel banner invented for a league.

Remarks in the Senate (August 12, 1919), Congressional Record, vol. 58, p. 3784.