 Hendl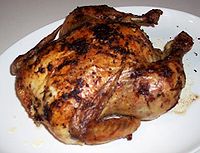 Hendl
is the
Austro-Bavarian
Austro-Bavarian
Bavarian , also Austro-Bavarian, is a major group of Upper German varieties spoken in the south east of the German language area.-History and origin:...
word for "
chicken
Chicken (food)
Chicken is the most common type of poultry in the world, and is prepared as food in a wide variety of ways, varying by region and culture.- History :...
", most commonly in its roasted form.
Hendln are traditionally served in Bavarian
beer garden
Beer garden
Beer garden is an open-air area where beer, other drinks and local food are served. The concept originates from and is most common in Southern Germany...
s or at festivals such as
Oktoberfest
Oktoberfest
Oktoberfest, or Wiesn, is a 16–18 day beer festival held annually in Munich, Bavaria, Germany, running from late September to the first weekend in October. It is one of the most famous events in Germany and is the world's largest fair, with more than 5 million people attending every year. The...
, and are generally eaten with a
Brezen
and/or a
Maß
Maß
The is a term used in German-speaking countries for a unit of volume, now typically used only for measuring beer sold for immediate on-site consumption. In modern times, a is defined as exactly 1 litre....
of
beer
German beer
Beer is a major part of German culture. For many years German beer was brewed in adherence to the Reinheitsgebot order or law which only permitted water, hops and malt as beer ingredients until its repeal in 1988. The order also required that beers not exclusively using barley-malts such as wheat...
. They are also widely available from mobile rotisserie trucks that park near well-frequented locations such as supermarkets or large parking lots.
The
standard German
Standard German
Standard German is the standard variety of the German language used as a written language, in formal contexts, and for communication between different dialect areas...
term is "Hähnchen" or "Brathähnchen". In East Germany it is often called "Broiler".