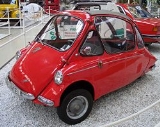 Heinkel Kabine
The
Heinkel Kabine
was a
microcar
Microcar
A microcar is the smallest automobile classification usually applied to standard small car . Such small cars were generally referred to as cyclecars until the 1940s. More recent models are also called bubblecars due to their egg-shaped appearance.-Definition:The definition of a microcar has varied...
designed by
Heinkel Flugzeugwerke
Heinkel
Heinkel Flugzeugwerke was a German aircraft manufacturing company founded by and named after Ernst Heinkel. It is noted for producing bomber aircraft for the Luftwaffe in World War II and for important contributions to high-speed flight.-History:...
and built by them from 1956 to 1958. Production was transferred under licence to Dundalk Engineering Company in Ireland in 1958 but the licence was withdrawn shortly afterward due to poor quality control Production restarted in 1960, again under licence, under the
Trojan 200
name by
Trojan Cars Ltd.
Trojan (automobile)
Trojan was a British automobile manufacturer. Cars with the Trojan marque were made from 1914 and 1974.-Early history:The company was founded by Leslie Hayward Hounsfield who went into business as a general engineer in a small workshop called the Polygon Engineering Works in Clapham, South London...
in the UK, and continued until 1966.
The Heinkel Kabine were also assembled from 1959 to 1962 under licence by Los Cedros S.A. as Heinkel in Argentina, they were built alongside Studebaker pickups.
Production began in March 1956 with the Kabine Model 150, using the 174 cc 9.2 hp single-cylinder four-stroke engine that powered the
Heinkel Tourist
Heinkel Tourist
The Heinkel Tourist is a motor scooter made by Heinkel Flugzeugwerke from 1953 to 1965. More than 100,000 were manufactured and sold.The Tourist was sold as an upscale scooter. It was more expensive than a Vespa or a Lambretta, and was generally heavier, more comfortable, and more stable...
scooter
Scooter (motorcycle)
A scooter is a motorcycle with step-through frame and a platform for the operator's feet. Elements of scooter design have been present in some of the earliest motorcycles, and motorcycles identifiable as scooters have been made from 1914 or earlier...
. In October 1956, Heinkel introduced the Kabine Model 153 (with three wheels) and the Kabine Model 154 (with four wheels), both with 204 cc engines. The engines in these models were later reduced in capacity to 198 cc for insurance purposes.
The Kabine had a steel
unit body
Monocoque
Monocoque is a construction technique that supports structural load by using an object's external skin, as opposed to using an internal frame or truss that is then covered with a non-load-bearing skin or coachwork...
. Access to the interior was by an opening front, but in order not to infringe
Iso Rivolta
Iso Rivolta
Iso Rivolta was an automobile and motorbike manufacturer in Italy, predominantly active from the late 1940s through the early 1970s. They are known for the iconic Isetta 'bubble car' of the 1950s, and for a number of powerful performance cars in the 60s and early 70s.-History:Iso Rivolta was...
's patent used on the
Isetta
Isetta
The Isetta is an Italian-designed microcar built in a number of different countries, including Spain, Belgium, France, Brazil, Germany, and the United Kingdom. Produced in the post-World War II years, a time when cheap short-distance transportation was most needed, it became one of the most...
, the steering wheel did not move with the door. However, it did feature a reverse gear, unlike some other
bubble car
Bubble car
Bubble car is a subjective term used for some small, economical automobiles, usually produced in the 1950s and 1960s.- Varieties :The Messerschmitt KR175 and KR200, and the FMR Tg500, had aircraft-style bubble canopies, giving rise to the term bubble car to refer to all these post-war microcars...
s. The fabric sun roof served as an emergency escape hatch should the sole door in front become jammed in a collision.
Specifications
Type:
175 Typ 153
200 Typ 154
200 Typ 154
Production dates
1956–1957
1956
1957–1958
Engine
1-Cylinder air-cooled 4-Stroke
Valvetrain
overhead valve (ohv)
Bore x Stroke
60 x 61.5 mm
65 x 61.5 mm
64 x 61.5 mm
Displacement
174 cm³
204 cm³
198 cm³
Power
6.8 kW (9,2 PS)
at 5500 RPM
7.4 kW (10 PS)
at 5500 RPM
7.4 kW (10 PS)
at 5500 RPM
Maximum torque
12.9 Nm at 4450 RPM
13.2 Nm at 4700 RPM
13.2 Nm at 4700 RPM
Compression
7.4 : 1
6.8 : 1
6.8 : 1
Electrical
12 Volt
Transmission
4-speed shifter with inside left (Kulissenschaltung)
Structure
"Motocoupé" with front door
Curb Weight
250 kg
290 kg
290 kg
GVWR
475 kg
510 kg
510 kg
Length x Width x Height
2550 x 1370 x 1320 mm
Wheelbase
1760 mm
Track front/rear
1225 mm / 0
1225 mm / 220 mm
1225 mm / 220 mm
8,5 m
Tire size
4.40–10"
4.40–10"
4.40–10"
Fuel economy
ca. 4 l/100 km
Top speed
87 km/h
90 km/h
90 km/h