 Heeresfeldbahn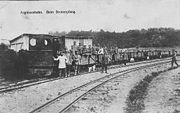 A
Heeresfeldbahn
is a German or Austrian
military field railway
(in Austria also called a
Rollbahn
). They were field railways (
Feldbahn

Feldbahn

A Feldbahn is the German term for a narrow gauge railway, usually not open to the public, which in its simplest form provides for the transportation of agricultural, forestry and industrial raw materials such as wood, peat, stone, earth and sand...


en
) designed for the military transportation purposes.
History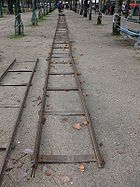 As railways developed during the 19th century, the military also discovered the utility of this new mode of transport. In stark contrast to the rudimentary road network of the time, the railways could transport large quantities of supplies, heavy equipment and troops rapidly and efficiently. For operations to the
front line
Front line
A front line is the farthest-most forward position of an armed force's personnel and equipment - generally in respect of maritime or land forces. Forward Line of Own Troops , or Forward Edge of Battle Area are technical terms used by all branches of the armed services...
s the military developed its own system of field railways (
Feldbahn

Feldbahn

A Feldbahn is the German term for a narrow gauge railway, usually not open to the public, which in its simplest form provides for the transportation of agricultural, forestry and industrial raw materials such as wood, peat, stone, earth and sand...


en
), usually built to a
narrow gauge
Narrow gauge
A narrow gauge railway is a railway that has a track gauge narrower than the of standard gauge railways. Most existing narrow gauge railways have gauges of between and .- Overview :...
. In addition to the general advantages of narrow gauge railways - they took up less space and could have tighter curves, for example - narrow gauge vehicles and track was more easily transportable and could be quickly moved to conform as the location of the front line changed.
Unlike road transportation, the establishment of a
Heeresfeldbahn
required the construction of expensive and time-consuming railway infrastructure (albeit of simpler design than conventional railways). They were built by specialist troops trained by the military, known as
Eisenbahnpioniere
. As a war progressed prisoners of war were also employed. The
Heeresfeldbahn
is tied to this fixed infrastructure; under artillery bombardment or other acts of war it is not flexible enough compared with lorry transport. A
Heeresfeldbahn
can also be quickly captured and used by an army's opponents. This could become a major disadvantage if the army has to retreat and is unable to lift or destroy the railway quickly enough.
Due to these disadvantages, the
Heeresfeldbahn
completely lost its importance in the second half of the 20th century and was replaced by road vehicles which were now more technically advanced, cross-country capable and did not require specially trained crews. In particularly difficult terrain, air transportation is now also used (especially helicopters). The use of military railways is now largely restricted to internal transportation functions on large military sites, e.g. for transportation at munitions depots. In addition there are
Feldbahn

Feldbahn

A Feldbahn is the German term for a narrow gauge railway, usually not open to the public, which in its simplest form provides for the transportation of agricultural, forestry and industrial raw materials such as wood, peat, stone, earth and sand...


en
on some military training areas e.g. large targets may be mounted on tipper trucks that are hauled by motorised locomotives as mobile targets for live firing exercises.
Subsequent civilian use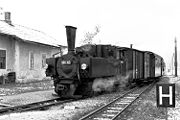 In addition to the typical tasks of military field railways in war itself, they were also sometimes used for civilian tasks once the war was over or their military function was finished. Such duties were occasionally carried out by military units and sometimes they built long access lines. For example, in the 1870s, when the Imperial and Royal Military Railway built a supply line from
Bosnian Brod
Bosanski Brod
Brod also known as Bosanski Brod is a town and municipality located on the south bank of the river Sava in the northern part of Bosnia and Herzegovina. It is situated in the north-western part of the Republika Srpska and the western part of the Posavina region.-Name:Prior to the Bosnian War it...
to
Zenica
Zenica
Zenica is an industrial city in Bosnia and Herzegovina. It is the capital of the Zenica-Doboj Canton of the Federation of Bosnia and Herzegovina entity...
in Bosnia was quickly expanded into a fully operational narrow gauge railway for general use, thus founding the extensive railway network built to the so-called
Bosnian gauge
of 760 mm. Even after the First World War, when the
Heeresfeldbahnen
were used very widely, a number of routes were used for public transport. For example, the
Grödnerbahn
in
Tyrol
County of Tyrol
The County of Tyrol, Princely County from 1504, was a State of the Holy Roman Empire, from 1814 a province of the Austrian Empire and from 1867 a Cisleithanian crown land of Austria-Hungary...
was built as a supply line to the Dolomite front. The narrow gauge line from
Skopje
Skopje
Skopje is the capital and largest city of the Republic of Macedonia with about a third of the total population. It is the country's political, cultural, economic, and academic centre...
to
Ohrid
Ohrid
Ohrid is a city on the eastern shore of Lake Ohrid in the Republic of Macedonia. It has about 42,000 inhabitants, making it the seventh largest city in the country. The city is the seat of Ohrid Municipality. Ohrid is notable for having once had 365 churches, one for each day of the year and has...
in Macedonia, over 200 km long with a gauge of 600 mm, was originally a military railway of this type.
Transportable
Feldbahn
track materiel, locomotives and wagons were often sold to civilian companies after the cessation of hostilities and the politically-driven disbandment of the troops responsible for them. This materiel was occasionally still in use for decades after the war's end. For example, in some peat works today there are still track sections from the Imperial Austrian Military Railway to be found and in
Feldbahn
museums there is a variety of steel relicts to be seen.
Rolling stock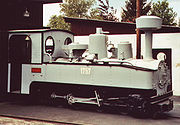 Usually special rolling stock was developed for
Heeresfeldbahnen
. Their locomotives, the so-called
Heeresfeldbahnlokomotive

Heeresfeldbahnlokomotive

A Heeresfeldbahnlokomotive is the German term for a special wartime locomotive for employment on military field railways , railways usually designed to transport military supplies to the front line.- Classes :...


n
(lit: army field railway locomotives) were characterised by their simple, rugged design, their ability to negotiate very tight curve radii and travel over extremely poor-quality trackbeds safely. These design features also made them interesting for civilian uses such as the forest railways (
Waldbahnen
) used in forestry or on civilian field railways (
Feldbahnen
).
Kasemattenbahn
A special type of
Heeresfeldbahn
is the
Kasemattenbahn
(lit: casemate railway), specifically for use in fortified military installations. It is usually used to ensure a reliable and copious provision of supplies inside the narrow passages of casemates. They are found, for example, on the
Atlantic Wall
Atlantic Wall
The Atlantic Wall was an extensive system of coastal fortifications built by Nazi Germany between 1942 and 1944 along the western coast of Europe as a defense against an anticipated Allied invasion of the mainland continent from Great Britain.-History:On March 23, 1942 Führer Directive Number 40...
, the fortified installations in the
Ardennes
Ardennes
The Ardennes is a region of extensive forests, rolling hills and ridges formed within the Givetian Ardennes mountain range, primarily in Belgium and Luxembourg, but stretching into France , and geologically into the Eifel...
and in fortified British harbours.
See also
Sources
Alfred B. Gottwaldt, Heeresfeldbahnen, Transpress, Stuttgart, ISBN 3-613-70818-3, 1st edition, 1998
Wernekke, Victor von Röll, Feldbahnen für militärische Zwecke, Urban & Schwarzenberg, Berlin, Wien, Enzyklopädie des Eisenbahnwesens, Vol 5, 1914, pp 54–58
Rüdiger Fach, Günter Krall, Heeresfeldbahnen der Kaiserzeit, Kenning, Nordhorn, ISBN 3-933613-46-9, 1st Edition, 2002
Dieter Stanfel, K.u.k. Militärfeldbahnen im Ersten Weltkrieg, DGEG, Hövelhof, ISBN 978-3-937189-41-3, 2008
External links