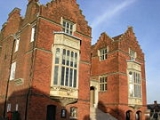 Harrow School
Harrow School
, commonly known simply as "Harrow", is an English independent school for boys situated in the town of
Harrow
Harrow, London
Harrow is an area in the London Borough of Harrow, northwest London, United Kingdom. It is a suburban area and is situated 12.2 miles northwest of Charing Cross...
, in north-west
London
London
London is the capital city of :England and the :United Kingdom, the largest metropolitan area in the United Kingdom, and the largest urban zone in the European Union by most measures. Located on the River Thames, London has been a major settlement for two millennia, its history going back to its...
.. The school is of worldwide renown. There is some evidence that there has been a school on the site since 1243 but the Harrow School we know today was officially founded by John Lyon under a Royal Charter of Elizabeth I in 1572. Harrow is one of the original nine public schools that were defined by the
Public Schools Act 1868
Public Schools Act 1868
The Public Schools Act 1868 was enacted by the British Parliament to reform and regulate nine of the leading English boys' schools. They were described as "public schools" as admission was open to boys from anywhere and was not limited to those living in a particular locality...
.
The school has an enrollment of approximately 850 boys spread across twelve boarding houses, all of whom
board
Boarding school
A boarding school is a school where some or all pupils study and live during the school year with their fellow students and possibly teachers and/or administrators. The word 'boarding' is used in the sense of "bed and board," i.e., lodging and meals...
full time.
Harrow has many traditions and rich history, which includes the use of Straw Hats,
morning suits
Morning dress
Morning dress is the daytime formal dress code, consisting chiefly for men of a morning coat, waistcoat, and striped trousers, and an appropriate dress for women...
, top hats and
canes
Walking stick
A walking stick is a device used by many people to facilitate balancing while walking.Walking sticks come in many shapes and sizes, and can be sought by collectors. Some kinds of walking stick may be used by people with disabilities as a crutch...
as uniform.