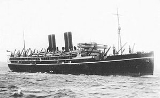 HMS Rawalpindi
HMS Rawalpindi was a British
armed merchant cruiser
Armed merchantmen
Armed merchantman is a term that has come to mean a merchant ship equipped with guns, usually for defensive purposes, either by design or after the fact. In the days of sail, piracy and privateers, many merchantmen would be routinely armed, especially those engaging in long distance and high value...
(a converted passenger ship) that was sunk during the
Second World War
World War II
World War II, or the Second World War , was a global conflict lasting from 1939 to 1945, involving most of the world's nations—including all of the great powers—eventually forming two opposing military alliances: the Allies and the Axis...
.
She started life as the 16,695 registered tons
P. & O. Steam Navigation Co. Ltd.
Peninsular and Oriental Steam Navigation Company
The Peninsular and Oriental Steam Navigation Company, which is usually known as P&O, is a British shipping and logistics company which dated from the early 19th century. Following its sale in March 2006 to Dubai Ports World for £3.9 billion, it became a subsidiary of DP World; however, the P&O...
ocean liner
Ocean liner
An ocean liner is a ship designed to transport people from one seaport to another along regular long-distance maritime routes according to a schedule. Liners may also carry cargo or mail, and may sometimes be used for other purposes .Cargo vessels running to a schedule are sometimes referred to as...
SS Rawalpindi . She was launched on 26 March 1925 by Lady Birkenhead, the wife of
F. E. Smith, 1st Earl of Birkenhead
F. E. Smith, 1st Earl of Birkenhead
Frederick Edwin Smith, 1st Earl of Birkenhead GCSI, PC, KC , best known to history as F. E. Smith , was a British Conservative statesman and lawyer of the early 20th century. He was a skilled orator, noted for his staunch opposition to Irish nationalism, his wit, pugnacious views, and hard living...
, and joined the P&O fleet in September of the same year. She could carry 307 First Class and 288 Second Class passengers, and was employed on the London to
Bombay
Mumbai
Mumbai , formerly known as Bombay in English, is the capital of the Indian state of Maharashtra. It is the most populous city in India, and the fourth most populous city in the world, with a total metropolitan area population of approximately 20.5 million...
service.
Rawalpindi was requisitioned by the
Admiralty
Admiralty
The Admiralty was formerly the authority in the Kingdom of England, and later in the United Kingdom, responsible for the command of the Royal Navy...
on 26 August 1939 and converted to an armed merchant cruiser by the addition of eight
6 in (152.4 mm) guns
BL 6 inch Mk VII naval gun
The BL 6 inch Gun Mark VII was a British naval gun dating from 1899, which was mounted on a heavy traveling carriage in 1915 for British Army service to become one of the main heavy field guns in the First World War, and also served as one of the main coast defence guns throughout the British...
and two
3 in (76.2 mm) guns
QF 12 pounder 12 cwt naval gun
The QF 12 pounder 12 cwt gun was a common calibre naval gun introduced in 1894 and used until the middle of the 20th century. It was produced by Armstrong Whitworth, Elswick and used on Royal Navy warships, and exported to allied countries...
.