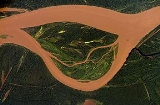 Guaviare River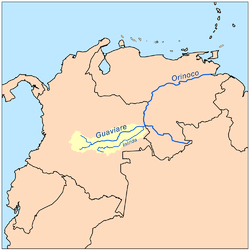 The
Guaviare
is a tributary of the
Orinoco
Orinoco
The Orinoco is one of the longest rivers in South America at . Its drainage basin, sometimes called the Orinoquia, covers , with 76.3% of it in Venezuela and the remainder in Colombia...
located in
Colombia
Colombia
Colombia, officially the Republic of Colombia , is a unitary constitutional republic comprising thirty-two departments. The country is located in northwestern South America, bordered to the east by Venezuela and Brazil; to the south by Ecuador and Peru; to the north by the Caribbean Sea; to the...
.
The Guaviare has its source in two other rivers, the Ariari and the
Guayabero
, which in turn have their own sources in the eastern part of the
Andes
Andes
The Andes is the world's longest continental mountain range. It is a continual range of highlands along the western coast of South America. This range is about long, about to wide , and of an average height of about .Along its length, the Andes is split into several ranges, which are separated...
. At 1497 km (930.2 mi) long, it is the longest river on the Orinoco and is navigable for 630 km (391.5 mi) of its total length. The Guaviare is considered the border between the
Llanos
Llanos
The Llanos is a vast tropical grassland plain situated to the east of the Andes in Colombia and Venezuela, in northwestern South America. It is an ecoregion of the Flooded grasslands and savannas Biome....
and the
Amazon Rainforest
Amazon Rainforest
The Amazon Rainforest , also known in English as Amazonia or the Amazon Jungle, is a moist broadleaf forest that covers most of the Amazon Basin of South America...
. Its main tributary is the
Inírida River
Inírida River
-References:*Rand McNally, The New International Atlas, 1993....
.
See also
Territorial-Environmental Information System of Colombian Amazon SIAT-AC website