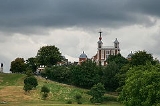 Greenwich
Greenwich
is a district of
south
South London
South London is the southern part of London, England, United Kingdom.According to the 2011 official Boundary Commission for England definition, South London includes the London boroughs of Bexley, Bromley, Croydon, Greenwich, Kingston, Lambeth, Lewisham, Merton, Southwark, Sutton and...
London, England, located in the
London Borough of Greenwich
London Borough of Greenwich
The London Borough of Greenwich is an Inner London borough in south-east London, England. Taking its name from the historic town of Greenwich, the present borough was formed in 1965 by the amalgamation of the former area of the Metropolitan Borough of Greenwich with part of the Metropolitan...
.
Greenwich is best known for its
maritime history
Maritime history
Maritime history is the study of human activity at sea. It covers a broad thematic element of history that often uses a global approach, although national and regional histories remain predominant...
and for giving its name to the Greenwich Meridian (0° longitude) and
Greenwich Mean Time
Greenwich Mean Time
Greenwich Mean Time is a term originally referring to mean solar time at the Royal Observatory in Greenwich, London. It is arguably the same as Coordinated Universal Time and when this is viewed as a time zone the name Greenwich Mean Time is especially used by bodies connected with the United...
. The town became the site of a Royal palace, the
Palace of Placentia
Palace of Placentia
The Palace of Placentia was an English Royal Palace built by Humphrey, Duke of Gloucester in 1447, in Greenwich, on the banks of the River Thames, downstream from London...
from the 15th century, and was the birthplace of many in the House of Tudor, including
Henry VIII
Henry VIII of England
Henry VIII was King of England from 21 April 1509 until his death. He was Lord, and later King, of Ireland, as well as continuing the nominal claim by the English monarchs to the Kingdom of France...
and Elizabeth I. The palace fell into disrepair during the
English Civil War
English Civil War
The English Civil War was a series of armed conflicts and political machinations between Parliamentarians and Royalists...
and was rebuilt as the
Royal Naval Hospital for Sailors
by Sir
Christopher Wren
Christopher Wren
Sir Christopher Wren FRS is one of the most highly acclaimed English architects in history.He used to be accorded responsibility for rebuilding 51 churches in the City of London after the Great Fire in 1666, including his masterpiece, St. Paul's Cathedral, on Ludgate Hill, completed in 1710...
and his assistant
Nicholas Hawksmoor
Nicholas Hawksmoor
Nicholas Hawksmoor was a British architect born in Nottinghamshire, probably in East Drayton.-Life:Hawksmoor was born in Nottinghamshire in 1661, into a yeoman farming family, almost certainly in East Drayton, Nottinghamshire. On his death he was to leave property at nearby Ragnall, Dunham and a...
.