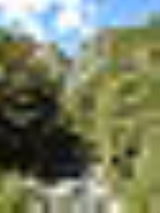 Green belt
A
green belt
or
greenbelt
is a policy and land use designation used in
land use planning
Land use planning
Land-use planning is the term used for a branch of public policy encompassing various disciplines which seek to order and regulate land use in an efficient and ethical way, thus preventing land-use conflicts. Governments use land-use planning to manage the development of land within their...
to retain areas of largely undeveloped, wild, or agricultural
land
Landscape
Landscape comprises the visible features of an area of land, including the physical elements of landforms such as mountains, hills, water bodies such as rivers, lakes, ponds and the sea, living elements of land cover including indigenous vegetation, human elements including different forms of...
surrounding or neighbouring urban areas. Similar concepts are
greenways
Greenway (landscape)
A greenway is a long, narrow piece of land, often used for recreation and pedestrian and bicycle user traffic, and sometimes for streetcar, light rail or retail uses.- Terminology :...
or
green wedges
which have a linear character and may run through an urban area instead of around it. In essence, a green belt is an invisible line encircling a certain area, preventing development of the area allowing wildlife to return and be established.
In those countries which have them, the stated objectives of green belt policy are to:
Protect natural or semi-natural environment

Natural environment

The natural environment encompasses all living and non-living things occurring naturally on Earth or some region thereof. It is an environment that encompasses the interaction of all living species....


s;
Improve air quality within urban

Urban area

An urban area is characterized by higher population density and vast human features in comparison to areas surrounding it. Urban areas may be cities, towns or conurbations, but the term is not commonly extended to rural settlements such as villages and hamlets.Urban areas are created and further...


areas;
Ensure that urban dwellers have access to countryside, with consequent educational and recreational opportunities; and
Protect the unique character of rural

Rural

Rural areas or the country or countryside are areas that are not urbanized, though when large areas are described, country towns and smaller cities will be included. They have a low population density, and typically much of the land is devoted to agriculture...


communities that might otherwise be absorbed by expanding suburbs.
The green belt has many benefits for people:
Walking, camping, and biking areas close to the cities and towns.
Contiguous habitat

Habitat

* Habitat , a place where a species lives and grows*Human habitat, a place where humans live, work or play** Space habitat, a space station intended as a permanent settlement...


network for wild plant

Plant

Plants are living organisms belonging to the kingdom Plantae. Precise definitions of the kingdom vary, but as the term is used here, plants include familiar organisms such as trees, flowers, herbs, bushes, grasses, vines, ferns, mosses, and green algae. The group is also called green plants or...


s, animal

Animal

Animals are a major group of multicellular, eukaryotic organisms of the kingdom Animalia or Metazoa. Their body plan eventually becomes fixed as they develop, although some undergo a process of metamorphosis later on in their life. Most animals are motile, meaning they can move spontaneously and...


s and wildlife

Wildlife

Wildlife includes all non-domesticated plants, animals and other organisms. Domesticating wild plant and animal species for human benefit has occurred many times all over the planet, and has a major impact on the environment, both positive and negative....


.
Cleaner air and water
Better land use of areas within the bordering cities.
The effectiveness of green belts differs depending on location and country.