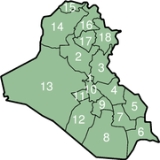 Governorates of Iraq
|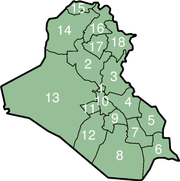 |
Iraq
Iraq
Iraq ; officially the Republic of Iraq is a country in Western Asia spanning most of the northwestern end of the Zagros mountain range, the eastern part of the Syrian Desert and the northern part of the Arabian Desert....
is composed of 18
province

Province

A province is a territorial unit, almost always an administrative division, within a country or state.-Etymology:The English word "province" is attested since about 1330 and derives from the 13th-century Old French "province," which itself comes from the Latin word "provincia," which referred to...


s
(or
governorate
Governorate
A governorate is an administrative division of a country. It is headed by a governor. As English-speaking nations tend to call regions administered by governors either states, provinces, or colonies, the term governorate is often used in translation from non-English-speaking administrations.The...
s) (
muḥāfażah
Muhafazah
A ' is a first-level administrative division of many Arab countries, and a second-level administrative division in Saudi Arabia. The term is usually translated to governorate in English, and occasionally to province. It comes from the Arabic root 'h-f-ẓ' which means to 'keep and guard'...
):










Bābil (Babylon) (بابل)

Karbalā' (كربلاء)

An-Najaf (النجف)

Al-Anbar (الأنبار)

Nīnawā (Nineveh)

Ninawa Governorate

Ninawa is a governorate in northern Iraq, and the Arabic name for the biblical city of Nineveh in Assyria. It has an area of and an estimated population of 2,453,000 people in 2003. Its chief city and provincial capital is Mosul, which lies across the Tigris river from the ruins of ancient...


(نينوى)

Duhok (دهوك)

Arbīl (أربيل)

Kirkuk (or At-Ta'mim) (التاميم)

As-Sulaymāniyyah (السليمانية)






External links