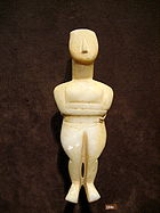 Goulandris Museum of Cycladic Art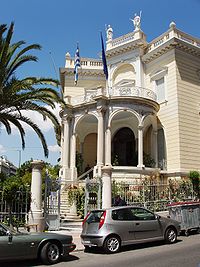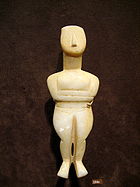 The
Nicholas P. Goulandris Foundation - Museum of Cycladic Art
is one of the great museums of
Athens
Athens
Athens , is the capital and largest city of Greece. Athens dominates the Attica region and is one of the world's oldest cities, as its recorded history spans around 3,400 years. Classical Athens was a powerful city-state...
. It houses a magnificent collection of artifacts of
Cycladic art
Cycladic art
Cycladic art encompasses the visual art of the ancient Cycladic civilization, which flourished in the islands of the Aegean Sea from 3300 - 2000 BCE. Along with the Minoans and Mycenaeans, the Cycladic people are counted among the three major Aegean cultures...
.
The museum was founded in 1986 in order to house the collection of Cycladic and Ancient Greek art belonging to Nicholas and Dolly Goulandris. Starting in the early 1960s, the couple collected Greek antiquities, with special interest in the prehistoric art from the
Cyclades islands
Cyclades
The Cyclades is a Greek island group in the Aegean Sea, south-east of the mainland of Greece; and a former administrative prefecture of Greece. They are one of the island groups which constitute the Aegean archipelago. The name refers to the islands around the sacred island of Delos...
of the
Aegean Sea
Aegean Sea
The Aegean Sea[p] is an elongated embayment of the Mediterranean Sea located between the southern Balkan and Anatolian peninsulas, i.e., between the mainlands of Greece and Turkey. In the north, it is connected to the Marmara Sea and Black Sea by the Dardanelles and Bosporus...
.
The Museum's main building, erected in the centre of Athens in 1985, was designed by the Greek architect Ioannis Vikelas. In 1991, the Museum acquired a new wing, the magnificent neo-classical
Stathatos Mansion
Stathatos Mansion
The Stathatos building is a neoclassical villa on the Vasilissis Sophias Avenue. It was built in 1895 by the Saxon-Greek architect Ernst Ziller for the Stathatos Family.-History:...
at the corner of
Vassilissis Sofias Avenue
Vassilissis Sofias Avenue
Vasilissis Sofias Avenue is a major avenue in the east side of Athens, the Greek capital. The avenue was originally part of the Kifisias Avenue. The part from Syntagma Square to the intersection with Alexandras Avenue was renamed after Queen Sophia the consort of King Constantine I...
and Herodotou Street.
External links