 Goodge Col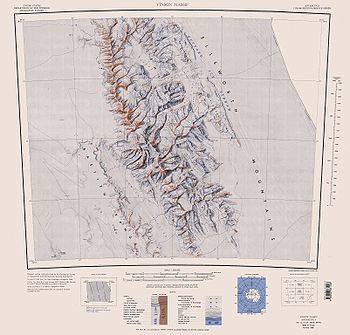 Goodge Col
is a broad ice-covered col at 3600 m elevation between the south side of
Mount Shinn
Mount Shinn
Mount Shinn is a mountain 4660m in altitude, standing 4 miles southeast of Mount Tyree in the Sentinel Range, Ellsworth Mountains. Discovered on IGY reconnaissance flights in January 1958, and named by Advisory Committee on Antarctic Names for Lieutenant Commander Conrad S. Shinn, U.S....
and the
Vinson Massif
Vinson Massif
Vinson Massif is the highest mountain of Antarctica, lying in the Sentinel Range of the Ellsworth Mountains, which stand above the Ronne Ice Shelf near the base of the Antarctic Peninsula. The massif is located about from the South Pole and is about long and wide. At the highest point is Mount...
in the
Sentinel Range
Sentinel Range
The Sentinel Range is a major mountain range situated northward of Minnesota Glacier and forming the northern half of the Ellsworth Mountains in Antarctica. The range trends NNW-SSE for about and is 24 to 48 km wide...
,
Ellsworth Mountains
Ellsworth Mountains
The Ellsworth Mountains are the highest mountain ranges in Antarctica, forming a long and wide chain of mountains in a north to south configuration on the western margin of the Ronne Ice Shelf. They are bisected by Minnesota Glacier to form the northern Sentinel Range and the southern Heritage...
in
Antarctica
. The col is relatively level, 1.5 miles wide, and is easily identified from positions east and west of the range. It is draining northeastwards into
Crosswell Glacier
Crosswell Glacier
Crosswell Glacier is a glacier 10 nautical miles long, flowing north-northeast from Mount Shinn to enter Ellen Glacier, in the central part of Sentinel Range, Ellsworth Mountains. First mapped by United States Geological Survey from surveys and U.S. Navy air photos, 1957-59. Named by...
, eastwards into Hinkley Glacier and, jointly with the ice filled
Jacobsen Valley
Jacobsen Valley
Jacobsen Valley is the shallow valley in Vinson Massif, Sentinel Range in Ellsworth Mountains, descending northwards from the summit of Antarctica Mount Vinson . It is 3.5 km long and 1.2 km wide, and is bounded to the west by Branscomb Peak and Galicia Peak, and to the east by a minor ridge...
, westwards into
Branscomb Glacier
Branscomb Glacier
The Branscomb Glacier is an Antarctic glacier, 9.5 km long, flowing west from the north-west side of Vinson Massif into Nimitz Glacier, in the Sentinel Range of the Ellsworth Mountains...
.
Named by US-ACAN (2006) after John W. Goodge, Assistant Professor, Department of Geological Sciences, University of Minnesota, Duluth;
USAP
United States Antarctic Program
United States Antarctic Program is an organization of the United States government which has presence in the continent of Antarctica. It co-ordinates research and the operational support for research in the region...
investigator of the evolution of the East Antarctic shield, mid 1980s to 2006.
Maps
Vinson Massif. Scale 1:250 000 topographic map. Reston, Virginia: US Geological Survey, 1988.