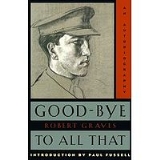 Goodbye to All That
Good-Bye to All That
, an
autobiography
Autobiography
An autobiography is a book about the life of a person, written by that person.-Origin of the term:...
by
Robert Graves
Robert Graves
Robert von Ranke Graves 24 July 1895 – 7 December 1985 was an English poet, translator and novelist. During his long life he produced more than 140 works...
, first appeared in 1929, when the author was thirty-four. "It was my bitter leave-taking of England," he wrote in a prologue to the revised second edition of 1957, "where I had recently broken a good many conventions". The title may also point to the passing of an old order following the cataclysm of the
First World War
World War I
World War I , which was predominantly called the World War or the Great War from its occurrence until 1939, and the First World War or World War I thereafter, was a major war centred in Europe that began on 28 July 1914 and lasted until 11 November 1918...
; the inadequacies of
patriotism
Patriotism
Patriotism is a devotion to one's country, excluding differences caused by the dependencies of the term's meaning upon context, geography and philosophy...
, the rise of
atheism
Atheism
Atheism is, in a broad sense, the rejection of belief in the existence of deities. In a narrower sense, atheism is specifically the position that there are no deities...
,
feminism
Feminism
Feminism is a collection of movements aimed at defining, establishing, and defending equal political, economic, and social rights and equal opportunities for women. Its concepts overlap with those of women's rights...
,
socialism
Socialism
Socialism is an economic system characterized by social ownership of the means of production and cooperative management of the economy; or a political philosophy advocating such a system. "Social ownership" may refer to any one of, or a combination of, the following: cooperative enterprises,...
and
pacifism
Pacifism
Pacifism is the opposition to war and violence. The term "pacifism" was coined by the French peace campaignerÉmile Arnaud and adopted by other peace activists at the tenth Universal Peace Congress inGlasgow in 1901.- Definition :...
, the changes to traditional married life, and not least the emergence of new styles of literary expression, are all treated in the work, bearing as they did directly on Graves' life.