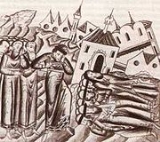 Golden Horde
The
Golden Horde
was a Mongol and later Turkicized
khanate
Khanate
Khanate, or Chanat, is a Turco-Mongol-originated word used to describe a political entity ruled by a Khan. In modern Turkish, the word used is kağanlık, and in modern Azeri of the republic of Azerbaijan, xanlıq. In Mongolian the word khanlig is used, as in "Khereidiin Khanlig" meaning the Khanate...
that formed the north-western sector of the
Mongol Empire
Mongol Empire
The Mongol Empire , initially named as Greater Mongol State was a great empire during the 13th and 14th centuries...
. Contemporarily, the khanate was known as the
Kipchak Khanate
or as the
Ulus of Jochi

Jochi

Jochi was the eldest of the Mongol chieftain Genghis Khan's four sons by his principal wife Börte. An accomplished military leader, he participated in his father's conquest of Central Asia, along with his brothers and uncles.-Early life:...



.
After the death of
Batu Khan
Batu Khan
Batu Khan was a Mongol ruler and founder of the Ulus of Jochi , the sub-khanate of the Mongol Empire. Batu was a son of Jochi and grandson of Genghis Khan. His ulus was the chief state of the Golden Horde , which ruled Rus and the Caucasus for around 250 years, after also destroying the armies...
in 1255, the prosperity of his dynasty lasted for a full century until 1359, though the intrigues of
Nogai
Nogai Khan
Nogai , also called Isa Nogai, was a general and de facto ruler of the Golden Horde and a great-great-grandson of Genghis Khan. His grandfather was Baul/Teval Khan, the 7th son of Jochi...
did invoke a partial civil war in the late 1290s.