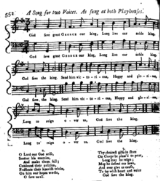 God Save the Queen
"God Save the Queen" (alternatively "God Save the King") is an
anthem
Anthem
The term anthem means either a specific form of Anglican church music , or more generally, a song of celebration, usually acting as a symbol for a distinct group of people, as in the term "national anthem" or "sports anthem".-Etymology:The word is derived from the Greek via Old English , a word...
used in a number of
Commonwealth realm
Commonwealth Realm
A Commonwealth realm is a sovereign state within the Commonwealth of Nations that has Elizabeth II as its monarch and head of state. The sixteen current realms have a combined land area of 18.8 million km² , and a population of 134 million, of which all, except about two million, live in the six...
s and British Crown Dependencies. The words of the song, like its title, are adapted to the gender of the current monarch, with "King" replacing "Queen", "he" replacing "she", and so forth, when a king reigns. It is the de facto British
national anthem
National anthem
A national anthem is a generally patriotic musical composition that evokes and eulogizes the history, traditions and struggles of its people, recognized either by a nation's government as the official national song, or by convention through use by the people.- History :Anthems rose to prominence...
and of some British
territories
British overseas territories
The British Overseas Territories are fourteen territories of the United Kingdom which, although they do not form part of the United Kingdom itself, fall under its jurisdiction. They are remnants of the British Empire that have not acquired independence or have voted to remain British territories...
; one of the two national anthems of New Zealand (since 1977) and those of
Britain's
Great Britain
Great Britain or Britain is an island situated to the northwest of Continental Europe. It is the ninth largest island in the world, and the largest European island, as well as the largest of the British Isles...
territories that have their own additional local anthem; and the royal anthem of Australia (since 1984), Canada (since 1980), Barbados, Jamaica, and Tuvalu, as well as
Gibraltar
Gibraltar
Gibraltar is a British overseas territory located on the southern end of the Iberian Peninsula at the entrance of the Mediterranean. A peninsula with an area of , it has a northern border with Andalusia, Spain. The Rock of Gibraltar is the major landmark of the region...
and the
Isle of Man
Isle of Man
The Isle of Man , otherwise known simply as Mann , is a self-governing British Crown Dependency, located in the Irish Sea between the islands of Great Britain and Ireland, within the British Isles. The head of state is Queen Elizabeth II, who holds the title of Lord of Mann. The Lord of Mann is...
.