 Germanic mythology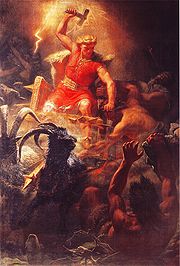 Germanic mythology
is a comprehensive term for myths associated with historical
Germanic paganism
Germanic paganism
Germanic paganism refers to the theology and religious practices of the Germanic peoples of north-western Europe from the Iron Age until their Christianization during the Medieval period...
, including
Norse mythology
Norse mythology
Norse mythology, a subset of Germanic mythology, is the overall term for the myths, legends and beliefs about supernatural beings of Norse pagans. It flourished prior to the Christianization of Scandinavia, during the Early Middle Ages, and passed into Nordic folklore, with some aspects surviving...
, Anglo-Saxon mythology, Continental Germanic mythology, and other versions of the mythologies of the Germanic peoples. Germanic mythology ultimately derives from Indo-European mythology, also known as Indo-Germanic mythology.
See also
Common Germanic deities

Common Germanic deities

The article lists gods and goddesses that may be reconstructed for Proto-Germanic or Common Germanic Migration period paganism, or which figure in both West and North Germanic mythology...



Female spirits in Germanic paganism

Female spirits in Germanic paganism

Female spirits and deities are a frequent element of recorded and reconstructed Germanic paganism and Norse mythology. Scholars, modern and medieval, record many varieties of female spirits or deities who were worshipped. However, some are attested only by single surviving references, linguistic...



Germanic paganism

Germanic paganism

Germanic paganism refers to the theology and religious practices of the Germanic peoples of north-western Europe from the Iron Age until their Christianization during the Medieval period...



Germanic mysticism (disambiguation)
Germanic folklore (disambiguation)
List of Germanic deities
Paganism in the Alpine region