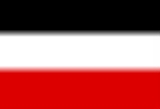 German East Africa
German East Africa
was a
German
German Empire
The German Empire refers to Germany during the "Second Reich" period from the unification of Germany and proclamation of Wilhelm I as German Emperor on 18 January 1871, to 1918, when it became a federal republic after defeat in World War I and the abdication of the Emperor, Wilhelm II.The German...
colony in East Africa, which included what are now :Burundi, :Rwanda and
Tanganyika
Tanganyika
Tanganyika , later formally the Republic of Tanganyika, was a sovereign state in East Africa from 1961 to 1964. It was situated between the Indian Ocean and the African Great Lakes of Lake Victoria, Lake Malawi and Lake Tanganyika...
(the mainland part of present
Tanzania
Tanzania
The United Republic of Tanzania is a country in East Africa bordered by Kenya and Uganda to the north, Rwanda, Burundi, and the Democratic Republic of the Congo to the west, and Zambia, Malawi, and Mozambique to the south. The country's eastern borders lie on the Indian Ocean.Tanzania is a state...
). Its area was 994996 km² (384,170.1 sq mi), nearly three times the size of Germany today.
The colony came into existence during the 1880s and ended with Imperial Germany's defeat in World War I. Afterwards the territory was divided between Britain and
Belgium
Belgium
Belgium , officially the Kingdom of Belgium, is a federal state in Western Europe. It is a founding member of the European Union and hosts the EU's headquarters, and those of several other major international organisations such as NATO.Belgium is also a member of, or affiliated to, many...
, and was later converted to a
mandate of the League of Nations
League of Nations mandate
A League of Nations mandate was a legal status for certain territories transferred from the control of one country to another following World War I, or the legal instruments that contained the internationally agreed-upon terms for administering the territory on behalf of the League...
.
The colony began with Carl Peters, an adventurer who founded the "
Society for German Colonization
Society for German Colonization
The Society for German Colonization was founded on March 28, 1884, by Dr. Karl Peters. The goal of the Gesellschaft für Deutsche Kolonisation was to acquire German colonial territories in overseas countries.In the autumn of 1884 Dr. Peters proceeded, together with Count Joachim von Pfeil und Klein...
" and signed treaties with several native chieftains on the mainland opposite
Zanzibar
Zanzibar
Zanzibar ,Persian: زنگبار, from suffix bār: "coast" and Zangi: "bruin" ; is a semi-autonomous part of Tanzania, in East Africa. It comprises the Zanzibar Archipelago in the Indian Ocean, off the coast of the mainland, and consists of numerous small islands and two large ones: Unguja , and Pemba...
.