 George Lowden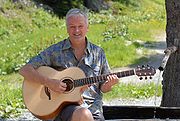 George Lowden
is a guitar maker,
luthier
Luthier
A luthier is someone who makes or repairs lutes and other string instruments. In the United States, the term is used interchangeably with a term for the specialty of each maker, such as violinmaker, guitar maker, lute maker, etc...
, based in Downpatrick, County Down,
Northern Ireland
Northern Ireland
Northern Ireland is one of the four countries of the United Kingdom. Situated in the north-east of the island of Ireland, it shares a border with the Republic of Ireland to the south and west...
. He constructs acoustic guitars, steel and nylon strung.
Company
In 1976 - 79 his first guitars with A-frame bracing and the dolphin voicing profiles were made in 1976 and in many ways have established the Lowden guitar's sound.
The first Irish studio/workshop, in 6a High Street,
Bangor
Bangor, County Down
Bangor is a large town in County Down, Northern Ireland. It is a seaside resort on the southern side of Belfast Lough and within the Belfast Metropolitan Area. Bangor Marina is one of the largest in Ireland, and holds Blue Flag status...
employed 4 trainee guitar makers, Colin 'Dusty' Miller, Frank Kernaghan, Sam Irwin and Michael Hull. It produced approximately 100 guitars during this period, which can be identified by small blue rectangular labels.
Beginning in 1980, copies of his guitars were made in
Japan
Japan
Japan is an island nation in East Asia. Located in the Pacific Ocean, it lies to the east of the Sea of Japan, China, North Korea, South Korea and Russia, stretching from the Sea of Okhotsk in the north to the East China Sea and Taiwan in the south...
by a small group of
luthier
Luthier
A luthier is someone who makes or repairs lutes and other string instruments. In the United States, the term is used interchangeably with a term for the specialty of each maker, such as violinmaker, guitar maker, lute maker, etc...
s near Nagoya.
In 1985, as a result of the rise in interest for all electronic instruments in music, sales of acoustic instruments slumped worldwide and the owners of the Japanese factory decided to close it and move production of Lowden guitars to a larger factory where other brands were made. George was concerned about this outcome and decided to try setting up a new factory in Ireland. By way of very little capital and through the help of an
investor
Investor
An investor is a party that makes an investment into one or more categories of assets --- equity, debt securities, real estate, currency, commodity, derivatives such as put and call options, etc...
(David Jebb); George rented a building in Bangor, Co. Down and began to employ and train new craftsmen.
1986 Micky Uchida, (a
Pierre Bensusan
Pierre Bensusan
Pierre Bensusan is a French-Algerian guitarist. As a sephardic Jew, his family came from Spain, Spanish Morocco and French Algeria. The genre of his acoustic guitar music is often characterized as Celtic, Folk, World music, New Age, or Chamber jazz. He has also published three books of music and...
fan and guitar maker himself from Japan) arrived in Ireland to stay with the Lowden family and asked George if he could come to work for him. Micky had been trained in classical guitar building but was interested in learning about steel strings. A short time after his arrival in Ireland with his wife Izumi, George offered Micky the factory manager's position after observing his obvious talent as a craftsman and luthier.
Lowden Guitars of this period were labelled with a slightly smaller version of the current oval label and approximately 500-600 guitars were made in each of the first three years then approximately 1,000 per year thereafter.
A New Chapter
Eventually in 1988, the company ran out of funds. George was uncomfortable continuing with an under-funded business unable to meet its commitments, and decided to close it down. On being informed of this, the Company's bank asked George to agree to
receivership
Receivership
In law, receivership is the situation in which an institution or enterprise is being held by a receiver, a person "placed in the custodial responsibility for the property of others, including tangible and intangible assets and rights." The receivership remedy is an equitable remedy that emerged in...
, as they believed that the company could be sold with George's agreement for future co-operation.
A group of local people put together a consortium, headed by Andy Kidd, (whose background was as a recording engineer and record producer) to buy the company out of receivership. George Lowden signed a licensing
agreement
Contract
A contract is an agreement entered into by two parties or more with the intention of creating a legal obligation, which may have elements in writing. Contracts can be made orally. The remedy for breach of contract can be "damages" or compensation of money. In equity, the remedy can be specific...
with this new company. This ensured that he retained personal ownership of the Lowden designs and trademark and enabled him to provide quality control and new designs while remaining independent from the company. The model range at that time was much more limited than it is now but the beginnings of a
dealership
Dealership
A dealership is an authorized seller and may refer to:*Car dealership*Franchised dealership...
network had already been established in parts of
Europe
Europe
Europe is, by convention, one of the world's seven continents. Comprising the westernmost peninsula of Eurasia, Europe is generally 'divided' from Asia to its east by the watershed divides of the Ural and Caucasus Mountains, the Ural River, the Caspian and Black Seas, and the waterways connecting...
and the USA.
France
1989 George moved with his wife and children to France and worked as an independent luthier designing and building his new range of
classical guitar
Classical guitar
The classical guitar is a 6-stringed plucked string instrument from the family of instruments called chordophones...
s as well as his steel strings. During this time, he also designed new models for the company, and checked quality on periodic visits back to Ireland. He built, as he still does, between 10 and 15 instruments each year for individual musicians who commission a personal guitar.
New Designs…
Some time later George continued his implementation of new designs by introducing the '
Jazz
Jazz
Jazz is a musical style that originated at the beginning of the 20th century in African American communities in the Southern United States. It was born out of a mix of African and European music traditions. From its early development until the present, jazz has incorporated music from 19th and 20th...
' nylon string electric acoustic.
In order to satisfy an increasing demand for more ornate instruments, Andy then asked George to design a series of guitars with more inlays, as the 'Standard' guitars were too plain for some musicians' taste. Thus was born the 'Premier', or "35" series with George Lowden's version of "flash". This series has been the most successful of all the Lowden designs with their figured exotic woods and inlays combined with selected grades of soundboard tonewoods.
A New chapter: Change of Ownership
1998 The acoustic guitar market had begun to flourish again during the 90's, but the company, significantly hampered by under-investment, had not been able to achieve its potential. In November 1998, keen to participate in a progressive plan to develop the business further, George Lowden, along with Steve McIlwrath and Alastair McIlveen set up a new holding company to buy a controlling interest in the Lowden Guitar Company. George's vision was "that the company should become as good as the guitars themselves…"
25th Anniversary
In November 1998, a visitor to the factory showed up guitar case in hand with the Lowden guitar serial No.1. The very first guitar George designed and built. This was an excellent reminder of how far the Lowden Guitar had come. As a celebration of this long journey, George designed the 25th anniversary limited edition model. "My aim with the design and build details was to make available in reasonable numbers, a guitar which was as close as possible to the guitars which I am only able to build personally for a very few players each year under my full name. I therefore included as many as I could of the construction, voicing and cosmetic details, found in my own guitars in this limited edition of 101 instruments."
Millenium Twins
By this time, the community of Lowden enthusiasts had grown considerably and players were not only attracted by Lowden's tone, looks and attention to detail, but also by the fact that they were not mass produced. Requests increased for 'special edition' Lowdens and in order to fulfil this demand George designed the Millennium Twins. "As a luthier, I find that designing a few 'special' guitars does stretch my creative abilities and I enjoy that challenge. I believe this does help to develop the art of guitar making in a much wider sense as well. I introduced the limited edition Millennium twins with their matching sets of figured walnut back and sides and adjacent sets of redwood tops sourced from trees, which had fallen naturally."
In 2003 the License with the Lowden Guitar Co was ended and production of Lowden guitars at the Newtownards factory ceased at the end of December 2003.
Looking to the Future
Lowden guitars are currently handcrafted in a small workshop in Downpatrick under the direct supervision of George.
Eric Clapton
Eric Clapton
Eric Patrick Clapton, CBE, is an English guitarist and singer-songwriter. Clapton is the only three-time inductee to the Rock and Roll Hall of Fame: once as a solo artist, and separately as a member of The Yardbirds and Cream. Clapton has been referred to as one of the most important and...
,
Jan Akkerman
Jan Akkerman
Jan Akkerman is a Dutch guitarist. Akkerman is a distinctive guitarist, constantly experimenting with new equipment and guitars. Akkerman's distinctive guitar sound is characterised by his pioneering use of volume swells which produce a smooth, fluty, sustained tone, and other complex techniques...
,
Vince Gill
Vince Gill
Vincent Grant "Vince" Gill is an American neotraditional country singer-songwriter and multi-instrumentalist. He has achieved commercial success and fame both as frontman to the country rock band Pure Prairie League in the 1970s, and as a solo artist beginning in 1983, where his talents as a...
,
Mike Oldfield
Mike Oldfield
Michael Gordon Oldfield is an English multi-instrumentalist musician and composer, working a style that blends progressive rock, folk, ethnic or world music, classical music, electronic music, New Age, and more recently, dance. His music is often elaborate and complex in nature...
,
Pierre Bensusan
Pierre Bensusan
Pierre Bensusan is a French-Algerian guitarist. As a sephardic Jew, his family came from Spain, Spanish Morocco and French Algeria. The genre of his acoustic guitar music is often characterized as Celtic, Folk, World music, New Age, or Chamber jazz. He has also published three books of music and...
,
Alex de Grassi
Alex de Grassi
Alex de Grassi is an American Grammy Award-nominated fingerstyle guitarist.-Early life and influences:Though born in Yokosuka, Japan, de Grassi grew up in San Francisco, California, where his grandfather played violin for the San Francisco Symphony and his father was a classical pianist...
, Peter Finger,
Nick Harper
Nick Harper
Nick Harper is an English singer-songwriter/guitarist. He is the son of English folk musician Roy Harper.-Early life:Nick Harper was born in London in 1965 to the famous folk singer-songwriter Roy Harper...
, Don Ross, Richard Thompson, the late
Eric Roche
Eric Roche
Eric Roche was an Irish fingerstyle guitarist.-Biography:Roche was born in New York City, but his family soon moved to Tralee, County Kerry, Ireland. He was a learnt accountant, but practised only for a short time before enlisting for classical guitar in 1992 at the London Musician's Institute...
,
Paul Brady
Paul Brady
Paul Joseph Brady is an Irish singer-songwriter, whose work straddles folk and pop. He was interested in a wide variety of music from an early age...
,
Lee Rogers
Lee Rogers
Lee Rogers is a Britishsinger-songwriter, originating from Carrickfergus, Northern Ireland. His music is released through Zenith Cafe....
, and
Foy Vance
Foy Vance
Foy Vance is a musician from Bangor, County Down, Northern Ireland. His first single "Gabriel and the Vagabond" was released on 18 December 2006 on Wurdamouth Records. The single's B-side was "Indiscriminate Act of Kindness"...
use Lowden Guitars.
External links