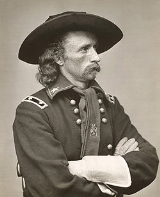 George Armstrong Custer
George Armstrong Custer
(December 5, 1839 – June 25, 1876) was a
United States Army
United States Army
The United States Army is the main branch of the United States Armed Forces responsible for land-based military operations. It is the largest and oldest established branch of the U.S. military, and is one of seven U.S. uniformed services...
officer and
cavalry
Cavalry
Cavalry or horsemen were soldiers or warriors who fought mounted on horseback. Cavalry were historically the third oldest and the most mobile of the combat arms...
commander in the
American Civil War
American Civil War
The American Civil War was a civil war fought in the United States of America. In response to the election of Abraham Lincoln as President of the United States, 11 southern slave states declared their secession from the United States and formed the Confederate States of America ; the other 25...
and the
Indian Wars
Indian Wars
American Indian Wars is the name used in the United States to describe a series of conflicts between American settlers or the federal government and the native peoples of North America before and after the American Revolutionary War. The wars resulted from the arrival of European colonizers who...
. Raised in
Michigan
Michigan
Michigan is a U.S. state located in the Great Lakes Region of the United States of America. The name Michigan is the French form of the Ojibwa word mishigamaa, meaning "large water" or "large lake"....
and
Ohio
Ohio
Ohio is a Midwestern state in the United States. The 34th largest state by area in the U.S.,it is the 7th‑most populous with over 11.5 million residents, containing several major American cities and seven metropolitan areas with populations of 500,000 or more.The state's capital is Columbus...
, Custer was admitted to
West Point
United States Military Academy
The United States Military Academy at West Point is a four-year coeducational federal service academy located at West Point, New York. The academy sits on scenic high ground overlooking the Hudson River, north of New York City...
in 1858, where he graduated last in his class. However, with the outbreak of the Civil War, all potential officers were needed, and Custer was called to serve with the Union Army.
Custer developed a strong reputation during the Civil War.