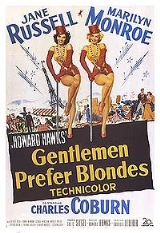 Gentlemen Prefer Blondes
Gentlemen Prefer Blondes
is a 1953 film adaptation of the
1949 stage musical
Gentlemen Prefer Blondes (musical)
Gentlemen Prefer Blondes is a musical with a book by Joseph Fields and Anita Loos, lyrics by Leo Robin, and music by Jule Styne, based on the best-selling novel of the same name by Loos...
, released by
20th Century Fox
20th Century Fox
Twentieth Century Fox Film Corporation — also known as 20th Century Fox, or simply 20th or Fox — is one of the six major American film studios...
,
directed
Film director
A film director is a person who directs the actors and film crew in filmmaking. They control a film's artistic and dramatic nathan roach, while guiding the technical crew and actors.-Responsibilities:...
by
Howard Hawks
Howard Hawks
Howard Winchester Hawks was an American film director, producer and screenwriter of the classic Hollywood era...
and starring
Marilyn Monroe
Marilyn Monroe
Marilyn Monroe was an American actress, singer, model and showgirl who became a major sex symbol, starring in a number of commercially successful motion pictures during the 1950s....
and
Jane Russell
Jane Russell
Jane Russell was an American film actress and was one of Hollywood's leading sex symbols in the 1940s and 1950s....
, with
Charles Coburn
Charles Coburn
Charles Douville Coburn was an American film and theater actor.-Biography:Coburn was born in Macon, Georgia, the son of Scots-Irish Americans Emma Louise Sprigman and Moses Douville Coburn. Growing up in Savannah, he started out doing odd jobs at the local Savannah Theater, handing out programs,...
,
Elliott Reid
Elliott Reid
Elliott Reid is an American character actor from New York City.He worked regularly in radio dramas during the Golden Age of radio...
,
Tommy Noonan
Tommy Noonan
Tommy Noonan was a comedy genre film performer, screenwriter and producer. He acted in a number of 'A' and 'B' pictures from the 1940s through the 1960s, and he is best known for his supporting performances as Gus Esmond, Marilyn Monroe's wealthy boyfriend, in Gentlemen Prefer Blondes , and as the...
,
Taylor Holmes
Taylor Holmes
Taylor Holmes was an actor who appeared in over 100 Broadway plays in his five-decade career. However, he is probably best remembered for his film roles, which he began in silent movies in 1917. By the 1940s, he was working more on film than on stage...
, and
Norma Varden
Norma Varden
Norma Varden was an English actress with a long film career in Hollywood.Born in London, the daughter of a retired sea-captain, Varden was a child prodigy. She trained as a concert pianist in Paris and performed in England before deciding to take up acting...
in supporting roles. The
screenplay
Screenplay
A screenplay or script is a written work that is made especially for a film or television program. Screenplays can be original works or adaptations from existing pieces of writing. In them, the movement, actions, expression, and dialogues of the characters are also narrated...
by
Charles Lederer
Charles Lederer
Charles Lederer was a prolific and well-connected American film writer and director of the 30s to the 60s, from a prominent theatrical family with close ties to the Hearst dynasty.-Early life:...
is augmented by the music of songwriting teams
Hoagy Carmichael
Hoagy Carmichael
Howard Hoagland "Hoagy" Carmichael was an American composer, pianist, singer, actor, and bandleader. He is best known for writing "Stardust", "Georgia On My Mind", "The Nearness of You", and "Heart and Soul", four of the most-recorded American songs of all time.Alec Wilder, in his study of the...
&
Harold Adamson
Harold Adamson
For the Toronto Police Chief see Harold Adamson Harold Adamson was an American lyricist during the 1930s and 1940s.- Biography :...
and
Jule Styne
Jule Styne
Jule Styne was a British-born American songwriter especially famous for a series of Broadway musicals, which included several very well known and frequently revived shows.-Early life:...
&
Leo Robin
Leo Robin
Leo Robin was an American composer, lyricist and songwriter. He is probably best known for collaborating with Ralph Rainger on the 1938 Oscar-winning song "Thanks for the Memory," sung by Bob Hope in the film The Big Broadcast of 1938.-Biography:Robin was born in Pittsburgh, Pennsylvania, and...
. The songs by Styne and Robin are from the Broadway show, while the songs by Carmichael and Adamson were written especially for the film.
The movie is filled with comedic gags and musical numbers.