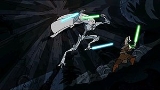 General Grievous
General Grievous
is a fictional character in the
Star Wars
Star Wars
Star Wars is an American epic space opera film series created by George Lucas. The first film in the series was originally released on May 25, 1977, under the title Star Wars, by 20th Century Fox, and became a worldwide pop culture phenomenon, followed by two sequels, released at three-year...
universe
Fictional universe
A fictional universe is a self-consistent fictional setting with elements that differ from the real world. It may also be called an imagined, constructed or fictional realm ....
, an antagonist in
Star Wars Episode III: Revenge of the Sith
Star Wars Episode III: Revenge of the Sith
Star Wars Episode III: Revenge of the Sith is a 2005 American epic space opera film written and directed by George Lucas. It is the sixth and final film released in the Star Wars saga and the third in terms of the series' internal chronology....
. He was voiced by Matthew Wood. According to the
Revenge of the Sith
DVD
DVD
A DVD is an optical disc storage media format, invented and developed by Philips, Sony, Toshiba, and Panasonic in 1995. DVDs offer higher storage capacity than Compact Discs while having the same dimensions....
, series creator
George Lucas
George Lucas
George Walton Lucas, Jr. is an American film producer, screenwriter, and director, and entrepreneur. He is the founder, chairman and chief executive of Lucasfilm. He is best known as the creator of the space opera franchise Star Wars and the archaeologist-adventurer character Indiana Jones...
instructed his creative team to create a villain that foreshadowed Anakin Skywalker's transformation into
Darth Vader
Darth Vader
Darth Vader is a central character in the Star Wars saga, appearing as one of the main antagonists in the original trilogy and as the main protagonist in the prequel trilogy....
: the heavy breathing, the
cyborg
Cyborg
A cyborg is a being with both biological and artificial parts. The term was coined in 1960 when Manfred Clynes and Nathan S. Kline used it in an article about the advantages of self-regulating human-machine systems in outer space. D. S...
body, and his seduction into a malevolent faction.
Grievous is portrayed as a cyborg general leading the droid armies of the Separatists, a political faction of planetary systems waging war on the
Galactic Republic
Galactic Republic (Star Wars)
The Galactic Republic is the name of the interplanetary State used in the fictional Star Wars universe prior to the establishment of the Galactic Empire. The form of this government, created by the Senate, was introduced in the Prequel Trilogy. By the time of the original Star Wars trilogy, it is...
.