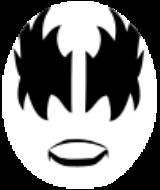 Gene Simmons
Gene Simmons
is an Israeli-American
entrepreneur
Entrepreneur
An entrepreneur is an owner or manager of a business enterprise who makes money through risk and initiative.The term was originally a loanword from French and was first defined by the Irish-French economist Richard Cantillon. Entrepreneur in English is a term applied to a person who is willing to...
,
singer-songwriter
Singer-songwriter
Singer-songwriters are musicians who write, compose and sing their own musical material including lyrics and melodies. As opposed to contemporary popular music singers who write their own songs, the term singer-songwriter describes a distinct form of artistry, closely associated with the...
,
actor
Actor
An actor is a person who acts in a dramatic production and who works in film, television, theatre, or radio in that capacity...
, and
rock
Rock music
Rock music is a genre of popular music that developed during and after the 1960s, particularly in the United Kingdom and the United States. It has its roots in 1940s and 1950s rock and roll, itself heavily influenced by rhythm and blues and country music...
bassist
Bassist
A bass player, or bassist is a musician who plays a bass instrument such as a double bass, bass guitar, keyboard bass or a low brass instrument such as a tuba or sousaphone. Different musical genres tend to be associated with one or more of these instruments...
. Known as "The Demon", he is the bassist/vocalist of
Kiss
KISS (band)
Kiss is an American rock band formed in New York City in January 1973. Well-known for its members' face paint and flamboyant stage outfits, the group rose to prominence in the mid to late 1970s on the basis of their elaborate live performances, which featured fire breathing, blood spitting,...
, a hard rock band he co-founded in the early 1970s.
Chaim Witz (later Gene Simmons) was born at the Rambam Hospital in
Haifa
Haifa
Haifa is the largest city in northern Israel, and the third-largest city in the country, with a population of over 268,000. Another 300,000 people live in towns directly adjacent to the city including the cities of the Krayot, as well as, Tirat Carmel, Daliyat al-Karmel and Nesher...
, Israel in 1949. Mother and child emigrated to
Jackson Heights, Queens
Jackson Heights, Queens
Jackson Heights is a neighborhood in the Northwestern portion of the borough of Queens in New York, New York, United States. The neighborhood is part of Queens Community Board 3...
in New York City when he was eight years old. His mother Flóra "Florence" Klein (formerly Kovács) was born in
Jánd
Jánd
Jánd is a village in Szabolcs-Szatmár-Bereg county, in the Northern Great Plain region of eastern Hungary.-Geography:It covers an area of and has a population of 851 people .-Notable people from Jánd:...
, Hungary.
You can't argue with facts and figures. Either people want it, in which case they pay for it, or it's two guys sitting around at the Plaza having a discussion, which means nothing. I mean, Titanic. I wasn't crazy about the movie. But you know what? I'm gonna shut up, because the people have spoken. End of story!

KISS is the number-one American band in gold-record sales. In the world, only the Beatles and the Stones are ahead of us. Every other band should be wiping my ass. The line forms over there to the left.

Prostitute yourself. As far as I'm concerned, that's even braver than waiting for the public to catch on.

Anybody who picks up a guitar and tells you that there's some inner message that they're trying to convey . . . it's nonsense. They're not being honest. The reason they're doing this is they wanna get lots of chicks and they don't want to work for a living.

People say, "I want to get laid a lot and make lots of money." That's not the right order.

"You can't buy love with money." Only a poor person says that.

You shall not covet thy neighbor's wife? Well, how about if she goddamn covets me? What do you think about that?

"I think I know it all, relatively speaking."