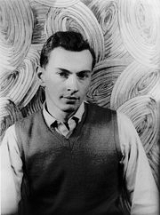 Gore Vidal
Gore Vidal
is an
American
United States
The United States of America is a federal constitutional republic comprising fifty states and a federal district...
author
Author
An author is broadly defined as "the person who originates or gives existence to anything" and that authorship determines responsibility for what is created. Narrowly defined, an author is the originator of any written work.-Legal significance:...
,
playwright
Playwright
A playwright, also called a dramatist, is a person who writes plays.The term is not a variant spelling of "playwrite", but something quite distinct: the word wright is an archaic English term for a craftsman or builder...
, essayist,
screenwriter
Screenwriter
Screenwriters or scriptwriters or scenario writers are people who write/create the short or feature-length screenplays from which mass media such as films, television programs, Comics or video games are based.-Profession:...
, and political activist. His third novel,
The City and the Pillar
The City and the Pillar
The City and the Pillar is the third published novel by American writer and essayist Gore Vidal, written in 1946 and published on January 10, 1948...
(1948), outraged mainstream critics as one of the first major American novels to feature unambiguous
homosexuality
Homosexuality
Homosexuality is romantic or sexual attraction or behavior between members of the same sex or gender. As a sexual orientation, homosexuality refers to "an enduring pattern of or disposition to experience sexual, affectional, or romantic attractions" primarily or exclusively to people of the same...
. He also ran for political office twice and has been a longtime political critic.
Vidal was born
Eugene Luther Gore Vidal
in
West Point, New York
West Point, New York
West Point is a federal military reservation established by President of the United States Thomas Jefferson in 1802. It is a census-designated place located in Town of Highlands in Orange County, New York, United States. The population was 7,138 at the 2000 census...
, the only child of 1st Lieutenant
Eugene Luther Vidal
Eugene Luther Vidal
Eugene Luther "Gene" Vidal was an American athlete and aviation pioneer. He was the father of author Gore Vidal.-Biography:He was born on April 13, 1895 in Madison, South Dakota.Vidal was a versatile athlete...
(1895–1969) and Nina Gore (1903–1978).
I am at heart a propagandist, a tremendous hater, a tiresome nag, complacently positive that there is no human problem which could not be solved if people would simply do as I advise.

"Writing Plays for Television," New World Writing," 10 (1956)
The theater needs continual reminders that there is nothing more debasing than the work of those who do well what is not worth doing at all.

"Love Love Love," Partisan Review (Spring 1959)
At any given moment, public opinion is a chaos of superstition, misinformation, and prejudice.

"Sex and the Law," Partisan Review (Summer 1965)
The more money an American accumulates the less interesting he himself becomes.

"Howard Hughes|H. Hughes," The New York Review of Books (1972-04-20)
In any case, rather like priests who have forgotten the meaning of the prayers they chant, we shall go on for quite a long time talking of books and writing books, pretending all the while not to notice that the church is empty and the parishioners have gone elsewhere to attend other gods, perhaps in silence or with new words.

"French Letters: Theories of the New Novel" (1967)
That peculiarly American religion, President-worship.

"President and Mrs. Ulysses S. Grant|U.S. Grant" (1975)
The United States was founded by the brightest people in the country — and we haven't seen them since.

"The State of the Union" (1975)
Big oil, big steel, big agriculture avoid the open marketplace. Big corporations fix prices among themselves and thus drive out of business the small entrepreneur. Also, in their conglomerate form, the huge corporations have begun to challenge the very legitimacy of the state.

"The State of the Union" (1978)
Precocious talents mature slowly if at all.

"F. Scott Fitzgerald's Case" (1980)