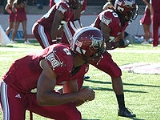 Gary Banks
Gary Rashad Banks
is a
Free Agent
Free agent
In professional sports, a free agent is a player whose contract with a team has expired and who is thus eligible to sign with another club or franchise....
American football
American football
American football is a sport played between two teams of eleven with the objective of scoring points by advancing the ball into the opposing team's end zone. Known in the United States simply as football, it may also be referred to informally as gridiron football. The ball can be advanced by...
wide receiver
Wide receiver
A wide receiver is an offensive position in American and Canadian football, and is the key player in most of the passing plays. Only players in the backfield or the ends on the line are eligible to catch a forward pass. The two players who begin play at the ends of the offensive line are eligible...
who most recently played for the
San Diego Chargers
San Diego Chargers
The San Diego Chargers are a professional American football team based in San Diego, California. they were members of the Western Division of the American Football Conference in the National Football League...
of the
National Football League
National Football League
The National Football League is the highest level of professional American football in the United States, and is considered the top professional American football league in the world. It was formed by eleven teams in 1920 as the American Professional Football Association, with the league changing...
. He was signed by the Chargers as an undrafted free agent in 2008. He played
college football
College football
College football refers to American football played by teams of student athletes fielded by American universities, colleges, and military academies, or Canadian football played by teams of student athletes fielded by Canadian universities...
at Troy.
Banks attended Southern Choctaw High School, leading the Indians to back-to-back state titles in 1998 and 1999 while playing quarterback.
After high school he was selected in the fifth round of the
2000 Major League Baseball Draft
2000 Major League Baseball Draft
-First Round Selections:-Compensation picks:- Background :The Florida Marlins made Adrian Gonzalez of Eastlake High School in Chula Vista, CA the first overall selection in the 2000 First-Year Player Draft...
by the
Chicago Cubs
Chicago Cubs
The Chicago Cubs are a professional baseball team located in Chicago, Illinois. They are members of the Central Division of Major League Baseball's National League. They are one of two Major League clubs based in Chicago . The Cubs are also one of the two remaining charter members of the National...
and played right field for three years as part of the Cubs' minor league system.
I had a year where I sat around on my butt and declined generous offers to do more teen movies and more of the same characters as the one from 10 Things. I was literally living off Ramen noodles and water just because I was sticking to my guns. It was very hard because they offer you so much money. It's so easy to say, 'Ah fuck it, at least I can live and eat.'

Interview with Detour (magazine)|Detour (Summer 2000).
All of this is so insignificant. In the grand scale of things, there have been so many before who have been in this position. I'm just another one. Life is so short. It's like we're already gone, really, in retrospect.

On fame and celebrity, as quoted in the New York Daily News (New York)|Daily News, June 26, 2000.
[I'm] an extremely private dude and all this is happening so damn quick. I really haven't had any time to rationalize it. But it's nothing that I'm going to let freak me out or take control of me or my thoughts or my real life.

As quoted in the London The Times|Times, July 1, 2000.
I love acting. Oh, God, I love it. But all this fame and all this bullshit attention. I'm not supernatural. I've done nothing extremely special to deserve the position. It happens every couple of years, and it's happened to hundreds of people before me.

As quoted in Newsweek|Newsweek, July 10, 2000.
I'm in control of my life, not anyone in Hollywood. I only do this because I'm having fun. The day I stop having fun, I'll just walk away. I wasn't going to have fun doing a teen movie again. I don't want to do this for the rest of my life. I don't. I don't even want to spend the rest of my youth doing this in this industry. There's so much more I want to discover.

As quoted in an interview in Vanity Fair (magazine)|Vanity Fair (August 2000).
When anything is blocking my head or there's worry in my life, I just go sit on Mars or something and look back here at Earth. All you can see is this tiny speck. You don't see the fear. You don't see the pain. You don't see thought. It's just one solid speck. Then nothing really matters. It just doesn't.

As quoted in an interview in Vanity Fair (magazine)|Vanity Fair (August 2000).
I'm the worst auditioner, really, really bad. I mean, you're being judged and I'm just so aware of it that it consumes me. I can't relax, I'm tied in knots, so the voice is very taut and tense. You're so aware that you're acting 'cause you're sitting across from this lady with a piece of paper who's going, I'm. Going. To. Shoot. You. If. You. Don't. Blah, blah, blah, in this emotionless voice. It's foul. I hate it.

As quoted by EW.com (May 2001).
Most of the time you don't even know they're there. Now, that's the scary thing. It's really strange and invading, but I'm still working it all out. I try to not let it bother me. And if I want to swim naked in my pool, I'm still going to do it. I certainly don't want to feel that I have to change everything in my life that I do to cater to them. I just won't let it happen.

Speaking on his problems with the paparazzi, as quoted in the National Post|National Post (May 2001).