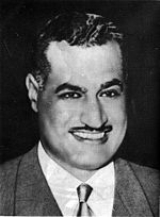 Gamal Abdel Nasser
Gamal Abdel Nasser Hussein
was the
second
President
President of Egypt
The President of the Arab Republic of Egypt is the head of state of Egypt.Under the Constitution of Egypt, the president is also the supreme commander of the armed forces and head of the executive branch of the Egyptian government....
of
Egypt
Egypt
Egypt , officially the Arab Republic of Egypt, Arabic: , is a country mainly in North Africa, with the Sinai Peninsula forming a land bridge in Southwest Asia. Egypt is thus a transcontinental country, and a major power in Africa, the Mediterranean Basin, the Middle East and the Muslim world...
from 1956 until his death. A colonel in the Egyptian army, Nasser led the Egyptian Revolution of 1952 along with
Muhammad Naguib
Muhammad Naguib
Muhammad Naguib was the first President of Egypt, serving from the declaration of the Republic on June 18, 1953 to November 14, 1954. Along with Gamal Abdel Nasser, he was the primary leader of the Egyptian Revolution of 1952, which ended the rule of the Muhammad Ali Dynasty in Egypt and Sudan...
, the first president, which overthrew the
monarchy of Egypt and Sudan
Muhammad Ali Dynasty
The Muhammad Ali Dynasty was the ruling dynasty of Egypt and Sudan, from the 19th to the mid-20th Century. It is named after its progenitor, Muhammad Ali Pasha, regarded as the founder of modern Egypt. It was also more formally known as the Alawiyya Dynasty...
, and heralded a new period of modernization, and socialist reform in Egypt together with a profound advancement of
pan-Arab nationalism
Pan-Arabism
Pan-Arabism is an ideology espousing the unification--or, sometimes, close cooperation and solidarity against perceived enemies of the Arabs--of the countries of the Arab world, from the Atlantic Ocean to the Arabian Sea. It is closely connected to Arab nationalism, which asserts that the Arabs...
, including a short-lived
union with Syria
United Arab Republic
The United Arab Republic , often abbreviated as the U.A.R., was a sovereign union between Egypt and Syria. The union began in 1958 and existed until 1961, when Syria seceded from the union. Egypt continued to be known officially as the "United Arab Republic" until 1971. The President was Gamal...
.
Nasser is seen as one of the most important political figures in both modern Arab history and politics in the 20th century.
The Arab states hoped to achieve the right to introduce into Israel an army (labelled refugees) to blow it up from within as they have failed to destroy it from without.

Interview in Zibicher Woche, September 1, 1961.
Let them kill Nasser! What is Nasser but one among many? I am alive, and even if I die, all of you are Gamal Abdul Nasser!

To his followers during the assassination attempt by the Muslim Brotherhood, quoted in The Looming Tower: Al-Qaeda and the Road to 9/11 by Lawrence Wright (ISBN 978-0375414862)